Integra Realty Resources Opens Offices in Houston and Austin May 15, 2017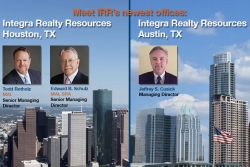 Integra Realty Resources (IRR) Fights Back!
HOUSTON, TX —May 15, 2017—Integra Realty Resources (IRR), announced today that it has re-established operations under new leadership in the Houston market. The new office, located at 9225 Katy Freeway, Suite 206, Houston, TX 77024, will bring its services to Houston and Southeastern Texas under the management of IRR's newest shareholder, Todd Rotholz, MAI. Additionally, an Austin branch office is opening on May 15th at 401 Congress Avenue, Suite 1540, Austin, TX 78701. IRR has added four new offices since February in Puerto Rico, Austin, San Antonio and Houston, and will relaunch Dallas-Ft. Worth market shortly.
Anthony M. Graziano, MAI, CRE and Chairman of IRR provided an update on IRR's expansion plans following JLL's acquisition of its IRR affiliates in Houston, DFW and Chicago late last year. "I think there was immediate concern that IRR might not be well-positioned to withstand the onslaught of public entities or private equity buying the independently-owned IRR offices. We are well capitalized, and do not intend to sit by idly while the industry just buys our talent. We're finding there is a deep well of very strong locally-oriented professionals who identify with IRR's culture and our dominant position as true local market experts. This is fundamental to our brand promise. Most of the national platforms are vying to build a network of Tier 1 markets with an eye towards 12-15 offices in the US that can helicopter into other US markets as needed. IRR continues its fight for local market experience in every market we represent, and I think we build the best talent as a result. It's the reason our offices became acquisition targets in the first place; we have a unified culture with locally-dominant respected market experts."
"We're excited that IRR will be represented in Houston and Austin by Edward B. Schulz, MAI, SRA and Todd Rotholz, MAI, formerly principals of Edward B. Schulz & Co. Houston is a thriving, culturally diverse city. Of all the MSA's in the country, Houston ranked 1st in population growth between 2010 and 2016. It also ranked 1st in percentage growth among the 10 largest MSA's over the same period. Ed and Todd are two very sharp businessmen who align perfectly with Integra's culture and spirit. They have their roots in the Houston market and will represent us well."
IRR Veteran, Jeffrey S. Cusick, will be the lead contact in the Austin Market. "I am excited about the continued growth of Integra Realty Resources, Inc. which maintains its focus on providing the best commercial real estate valuation and consulting services across North America." said Mr. Cusick. He added, "Our professionals within these offices have both lived and worked in these markets for many years. I have been fortunate to have been part of IRR, working in the Austin market for over a decade and welcome the changes that enable us to provide an even greater level of service to our local and national client base alike"
"The Houston and Austin Offices will maintain their focus on valuation and advisory services for a wide variety of clients including lenders, public/governmental entities, and private investors. We will also offer expert testimony and appraisal consulting services." said Mr. Rotholz. "Edward B. Schulz & Co. has maintained an excellent reputation in the Houston real estate market for 40 years. Our business is built on trust, integrity and customer service which is reinforced by the IRR brand. Becoming IRR-Houston enhances our existing service capabilities with market- leading technology, advanced market research and analytics, and the support of a nationwide, extensive network of highly-respected professionals."
"As Chairman of the Board, I've had the pleasure of working with many of the best minds in US valuation. IRR's commitment is to our people and the cities and towns in which we operate. We believe remaining independent of brokerage or other conflicting service lines places us in a unique position. We are getting good traction in San Francisco, Sacramento, and Chicago and expect to have new offices up and running by this summer. We will then shift our focus towards qualifying firms in the Northeast since we expect some additional departures from IRR in the coming months in those markets. "
Commenting on future growth and expansion, Graziano noted "I like where IRR is positioned in the market, and I'm looking forward to watching the new and old national firms scrap it out over the same book of business. In most cases, IRR offices derive 85% or more of their business from their local market relationships, so I don't expect big swings in business volume outside of temporary opportunities. I see IRR's litigation, market study and consulting practices expanding, our hospitality and senior housing groups are back up and running, we executed on our Caribbean expansion into Puerto Rico and our plans for Canadian expansion are well underway. My grandfather was a boxer in the US Army. He always taught me – the only real enemy in a fight is the fear of getting punched. Once that's over – the best trained boxer will always win. IRR took its punches last year. The fear is over…now it's time to punch back."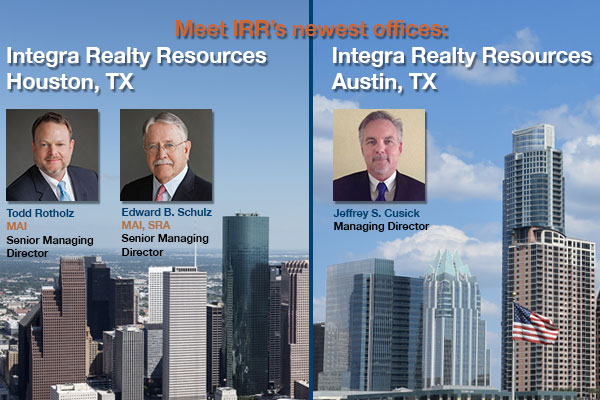 About Integra Realty Resources (IRR)
Founded in 1999, the firm specializes in real estate appraisals, feasibility studies, market studies, expert testimony, and related property consulting services. Many of the nation's largest and most prestigious financial institutions, developers, corporations, law firms, and government agencies are among its clients. For more information, visit www.IRR.com.
Company contact:
Antoine Charvet
Corporate Communications Director
Integra Realty Resources
Main: 212-255-7858 x2003
acharvet@irr.com