IRR Celebrates 20th Anniversary and Elects New Board Oct 22, 2019
DENVER, CO — (October 21, 2019) —Integra Realty Resources (IRR), one of North America's largest independent commercial real estate valuation and consulting firms, celebrated its 20th Anniversary at this year's Fall Stockholder's Meeting for partners and corporate staff.
Hosted at the JW Marriott Denver Cherry Creek hotel in Denver, Co., the two-day event offered informative speakers, company-wide strategic planning sessions, risk management sessions, and networking opportunities for partners and staff to interact.
As part of the meeting, Integra also elected a new Board of Directors.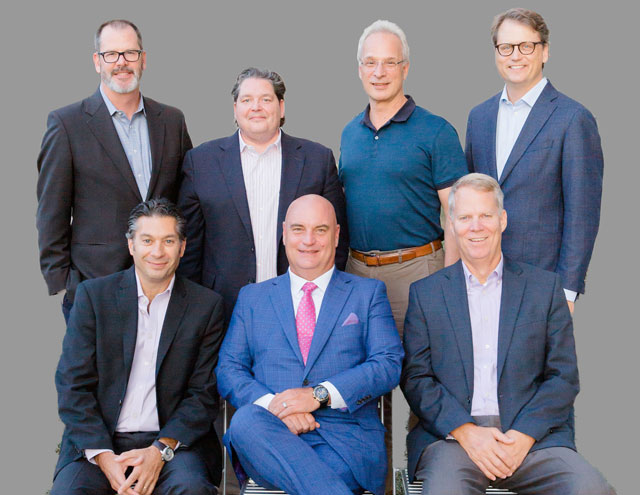 Pictured here are [front row, left to right] Anthony Sanna, MAI, CRE, FRICS (IRR-Detroit); Anthony M. Graziano, MAI, CRE, Chairman and CEO of IRR; and Ron DeVries, MAI, FRICS (IRR-Chicago) [back row, left to right] are Darrin W. Liddell, MAI, FRICS, CCIM, (IRR—Salt Lake City), Michael S. Miller, CIO of IRR, Arthur A. Linfante, CRE, MAI, (IRR-Northern NJ), and John D. Scott, Jr., MAI, MRICS, (IRR-Charlotte).
"We had an amazing turnout for this shareholder meeting as we were celebrating our 20th year, and we were electing a new Board of Directors to chart our course in the coming years," said Anthony M. Graziano, Chairman and CEO of IRR. "As we turn a new chapter in Integra's history, we honor our past partners, and especially our late founder Mr. Kevin Nunnink. Without the shared vision, hard work and dedication of so many before us, Integra would not be where it is today.
A company is only as good as the people within it – and we are fortunate to have so many of the very best in nearly 60 markets across the U.S. Our continued mission is to represent a company where the best and brightest minds in real estate come to succeed. Our success is based on trust; the trust we place in our people that they will deliver the highest-quality services for our clients; and the trust our clients place in us that we will deliver unbiased professional advice across our platform to deliver unmatched local insight on real estate issues. Integra expects to add value to our clients' decisions and actions on any major real estate issue in any U.S. market for years to come. After twenty years of service, we want to thank our clients and friends for entrusting us with their business, and we look forward to celebrating many more years of working together."