IRR Launches Integra Hotels Specialty Practice Group Jan 4, 2018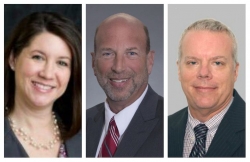 FOR IMMEDIATE RELEASE
Integra Realty Resources Launches Hotel Specialty Practice Group
in Response to Unprecedented Demand in Hospitality Sector
New Group Led by Seasoned Industry Veterans
Jeff A. Greenwald, James V. Andrews, and Julie Fugitt-Schultz
DENVER, CO — (January 4, 2017) — In response to the unprecedented demand for valuation services in the hospitality sector, Integra Realty Resources (IRR), North America's largest independent commercial real estate valuation and consulting firm, today announced a fourth quarter launch of Integra Hotels. The hospitality specialty practice group offers valuation services for lending, market/feasibility studies, insurance appraisals, and litigation support. Jeff A. Greenwald, MAI, SRA, AI-GRS, ASA, FRICS, a nearly 30-year industry veteran serves as National Practice Leader of Integra Hotels. Seasoned hospitality valuation experts James V. Andrews, MAI, CRE, FRICS, ASA/BV and Julie Fugitt-Schultz, CCIM will co-manage the practice group.
Over the past 36 months, IRR has completed 2,500 hospitality assignments totaling more than $25 billion in asset value, ranging from small, independently owned bed and breakfasts, to major luxury hotel brand portfolios.
"The hospitality industry continues its consolidation, and Integra Hotels professionals are dedicated solely to hospitality advisory services to meet our customers' expectations for true specialization," said Anthony M. Graziano, MAI, CRE, Chairman of Integra Realty Resources. "Recent challenges faced by owners and investors with properties in hurricane affected areas create even stronger demand for accurate commercial real estate valuation and advisory services in the sector. Integra Hotels practice leaders will oversee an initial team of 30 dedicated hospitality professionals located throughout the U.S. and Caribbean. I'm confident Jeff, Jim, and Julie will significantly expand IRR's strong presence in the hospitality sector to our clients' benefit."
In addition to his nearly 30 years of experience as a commercial appraiser, Greenwald brings more than a decade of prior experience as a successful real estate developer and commercial real estate broker. He serves as Senior Managing Director and Principal of IRR-San Diego, where his hospitality valuation team has completed notable assignments including, Town and Country Resort Convention Center, the largest privately owned convention and meeting hotel in San Diego with 954 rooms; the 395-room Sheraton Atlanta Airport hotel, recently acquired by the City of Atlanta; Lake Arrowhead Resort & Spa with 173 rooms in Lake Arrowhead, CA; Hyatt Regency Mission Bay Spa and Marina, an 18-story, two-tower mixed-use project with 429 rooms and 187 boat slips located near the beach in San Diego's Mission Bay; Bahia Resort Hotel with 314 rooms on picturesque Mission Bay in San Diego; Pacific Edge in Laguna Beach, an oceanfront hotel; and the proposed $100 million Crowne Plaza, Staybridge Suites dual-branded hotel towers in downtown San Diego.
"What sets Integra Hotels apart is our highly experienced senior management professionals that are on the ground in every major U.S. market and the Caribbean," said Greenwald. "Our expert leaders are armed with historical data and the latest research and analytics derived from our proprietary technology platform that allows us to offer the most accurate, hyper local, regional and national perspective on hospitality property values and trends, which is invaluable to our clients."
In addition to his new leadership role within Integra Hotels, Andrews, a 30-plus year commercial real estate and business valuation industry veteran, serves as Senior Managing Director and Principal of IRR-Caribbean. In this capacity, Andrews oversees the IRR-Caribbean offices in the Cayman Islands, U.S. Virgin Islands, the Bahamas and Puerto Rico. Assignments range from luxury boutique hotels up to large all-inclusive resorts valued in excess of $300 million. Trophy property assignments include The Ritz-Carlton Grand Cayman, a 390-unit luxury island resort set on 144 acres; The all-inclusive Sonesta Maho and Ocean Point resorts in St. Maarten with 535 guest rooms; Beaches Resort and Villages, an all-inclusive resort in Turks and Caicos consisting of four separate resort "villages"; and The Westin Grand Cayman Resort & Spa, a 343-room beachfront luxury resort fronting the famous Seven Mile Beach.
"The Caribbean continues to be a dominant presence amongst the world's top tourist destinations," said Andrews. "IRR is the only US-national valuation and consulting firm with boots on the ground in the region, and with a finger on the pulse of the thriving hotel development sector here."
In addition to her newly appointed role as National Co-Practice Leader of Integra Hotels, Fugitt-Schultz continues to serve as Director, Hospitality Valuation of IRR-Memphis/Jackson. She brings more than 20 years of industry experience, having managed a broad range of commercial real estate valuation assignments with an emphasis on trophy quality assets and hospitality properties, along with acquisitions experience for institutional quality assets with single asset values ranging from $200 million to over one billion dollars. Prior to joining IRR, Fugitt-Schultz served as Vice President of JLL, where she focused on appraisals, market studies, and consulting assignments nationwide. Notable valuation assignments include The Drake Hotel, an iconic Chicago, Illinois landmark hotel with 535 luxury guest rooms; The Peter Island Resort and Spa, a five-star, luxury resort in British Virgin Islands featuring 55 deluxe beachfront rooms and villas; and the Ritz Carlton Hotel and Residences, a luxury five-star, 13-story resort located on Key Biscayne island in Florida, featuring 450 guest rooms.
For more information on Integra Hotels, please contact Integra Hotels practice leader Jeff Greenwald at (858) 259-4900 or visit www.irr.com/hotels
You can also learn more by reading this interview in Bisnow.