IRR's Chairman Anthony M. Graziano Delivers Commercial Real Estate Sentiment Survey Results at UM's Real Estate Impact Conference Feb 8, 2019
FOR IMMEDIATE RELEASE
Integra Realty Resources Chairman Anthony M. Graziano Delivers Commercial Real Estate Sentiment Survey Results at UM's Real Estate Impact Conference
Report Produced in Collaboration with University of Miami's Real Estate Research Initiative Reveals Foreign Investment May Play Smaller Role in SoFlo's CRE Market than Perceived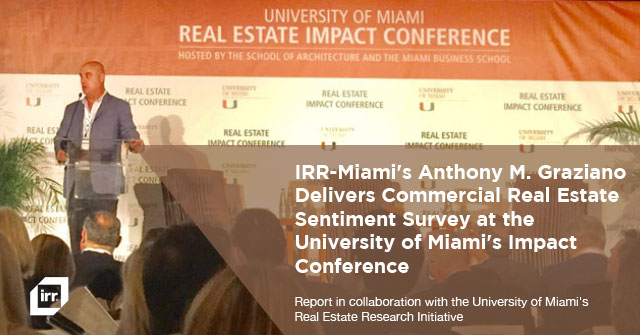 DENVER, CO — (February 8, 2019) —Integra Realty Resources Chairman Anthony M. Graziano, MAI, CRE delivered the Commercial Real Estate Sentiment Survey results at the University of Miami's annual Real Estate Impact Conference today. More than 700 people attended the conference held at the Four Seasons Hotel on Brickell Avenue, which featured keynote addresses from industry heavyweights and was hosted by the UM School of Architecture and the UM Business School.
The University of Miami conducted its inaugural Commercial Real Estate Sentiment Survey in South Florida (Nov – Dec 2018) to represent a proxy for current market sentiment and provide key insights into the coming year with respect to the availability of capital and significance of foreign investment on the commercial market in South Florida.
The findings reveal a broad array of information encompassing a diverse set of data and trends, according to Graziano, who played a key role in managing the research project team.
"The survey reveals some interesting findings regarding drivers of South Florida commercial activity, and offers a broader perspective that the market is less not as strongly influenced by foreign investment as some may think. The larger takeaways in the report relate to current liquidity in the market as a driver, but a focus on core fundamentals remains evident by our survey results.
He went on to add, "Based on the respondents' outlook, expect increasing values and transaction volume on healthcare, senior housing, and industrial asset classes in 2019, with more muted activity in the office and hospitality sector. Given the strong sell signals for multi-family, South Florida may see record transaction volumes in 2019 since conservative investors favor multi-family as market conditions become more volatile. This flight to safety may provide a balance of sellers and buyers in 2019."
The study was developed through a survey of the University's Advisory Board members, comprising more than 100 leading regional real estate professionals representing developers, owners, investors, advisors, architects, engineers and brokerage professionals throughout South Florida.
The survey was supplemented by an outside research team, which in addition to Advisory Board member Anthony M. Graziano, MAI, CRE and Chairman and Senior Managing Director, Integra Realty Resources, included Dr. Charles Bohl, Director, Master in Real Estate Development + Urbanism (MRED+U) Program; Mark Troen, FRICS, MRED+U Lecturer and Senior Vice President at Brookwood Group Inc; Anthony Williams, Special Projects Director, Bendixen & Amandi International; and three graduate students (Eli P. Stephan, Erin Lysiane Sutherland, and Francisco Massó) from UM's MRED+U program.
The Real Estate Research Initiative was sponsored by the three real estate programs at the University in the Architecture, Business, and Law Schools.
Graziano concludes, "As an alumnus of the University of Miami, I was honored to be a part of this project. It is part of Integra's mission to integrate with university programs throughout the country to provide a platform for future growth of the next generation of real estate leaders, particularly in the areas of market research."
Click this link to download the Commercial Real Estate Sentiment Survey Results Report in its entirety.
About Integra Realty Resources (IRR)
Integra Realty Resources (IRR) is one of the the largest independent commercial real estate valuation services firms in North America, covering more than 60 markets with more than 600 employees throughout the United States and the Caribbean. The firm specializes in real estate appraisals, feasibility studies, market studies, expert testimony, and related property consulting services. Many of the nation's largest and most prestigious financial institutions, developers, corporations, law firms, and government agencies are among IRR's clients. In 2018, IRR valued more than $300 billion in real estate assets comprising over 27,000 assignments. For more information, visit www.IRR.com.