Just Released: IRR's Mid-Year 2020 Viewpoint Local Market Reports Aug 31, 2020
CRE Market Could Recover as soon as 18 Months, with Industrial and Multifamily Leading the Way,
According to Integra's Mid-Year Market Reports
Integra Releases 259 Local Market Reports that Explore Commercial Real Estate Trends Across Five Property Sectors:
Office, Industrial, Retail, Hospitality and Multifamily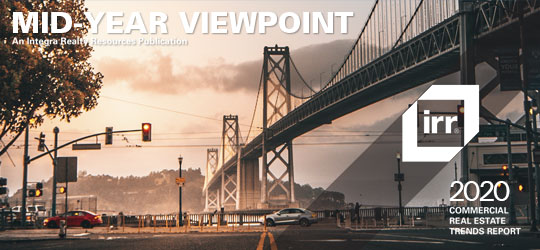 DENVER, CO— (August 31, 2020) — Integra Realty Resources (IRR), one of North America's largest independent commercial real estate valuation and consulting firms, today announced its highly anticipated local Mid-Year Market Reports—a supplemental update to its flagship Viewpoint 2020 report released in January—are now available.
Addressing the uncertainty in the current commercial real estate market, Anthony M. Graziano, MAI, CRE, Chairman and CEO of Integra Realty Resources, said, "The headline problem is unemployment and interruption of personal expenditures. While most real estate sectors have taken a significant hit, the brunt of the pandemic's impact is falling on the hospitality and retail sectors. One bright spot is the industrial real estate sector, fueled by rising e-commerce demand. The biggest question is, when will the market recover from this pandemic-induced recession? The good news is it could be as little as 18 months, with industrial and multifamily leading the way."
IRR has released 259 local market reports covering 64 U.S. markets that can be downloaded for free at http://www.irr.com/research. The local reports provide a detailed overview of the local commercial real estate market across five key real estate sectors including office, industrial, retail, hospitality and multifamily. To access a local office's Local Market Report, just visit the research section of the respective local office's webpage on irr.com. For example, the San Francisco Mid-Year Market Reports can be found at https://www.irr.com/sanfrancisco/research
Below are a few highlights from the more than 250 local market reports released.
IRR VIEWPOINT MID-YEAR 2020 REPORT HIGHLIGHTS
Atlanta

Industrial: Demand Outweighs Supply

Multifamily: Atlanta Outshines SE Region

Office: Near-Term Uncertainty but Long-Term Stability

Retail: Recovery Eminent Despite Rising Vacancy
Bay Area

Industrial: Decreasing Demand and Increasing Supply

Multifamily: Uncertainty Leads to Declining Sales

Office: Positioned for Stability Over the Long-Term

Retail: Remains Tight Despite Increased Vacancies




Boston

Industrial: Demand Keeps Up with Supply

Multifamily: 24 Months Until Market Recovers

Office: Office Rent Recovery Probable by 2022

Retail: Increasing Vacancies Followed by Probable Recovery in Mid-2021




Chicago

Industrial: COVID Accelerates Industrial Growth Trend

Multifamily: Suburbs Outshine Downtown Market

Office: Downtown Market Remains Vibrant

Retail: Resetting and Realigning in the Face of COVID
For more information about IRR's 2020 Mid-Year Reports, or to access additional IRR research, please visit the company's online research section at www.irr.com/research/