Sacramento Business Journal Exclusive: IRR Opens New Offices in Sacramento and San Francisco Nov 10, 2017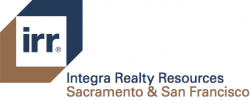 Longtime commercial real estate appraiser shares insights on local market
(Link to Subscription-Only Publication)
By Ben van der Meer – Staff Writer, Sacramento Business Journal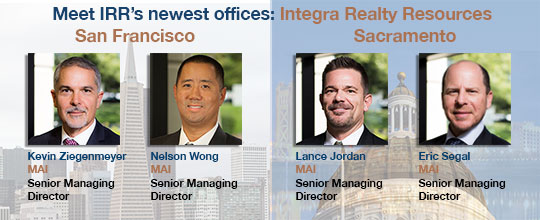 IRR's Official Press Release:
FOR IMMEDIATE RELEASE
Integra Realty Resources Continues Expansion, Opens Two New Offices in California: San Francisco and Sacramento
Respected Northern California Consulting Firm, Seevers Jordan Ziegenmeyer, Joins IRR;
Represents Eighth New IRR Office to Open in Less than 12 Months

San Francisco / Sacramento, CA — November 1, 2017 —On the heels of opening a new Chicago office, Integra Realty Resources (IRR), North America's largest independent commercial real estate valuation and consulting firm, today announced the opening of two new California offices. IRR-San Francisco and IRR-Sacramento will open through a strategic partnership with Seevers Jordan Ziegenmeyer (SJZ), one of California's largest, most respected real estate consulting and valuation firms.
Effective November 1, all 20 employees from SJZ will form Integra Realty Resources' new Northern California offices under the management of IRR's newest shareholders Lance Jordan, MAI; Kevin Ziegenmeyer, MAI; Eric Segal, MAI; and Nelson Wong, MAI.
Ziegenmeyer and Wong will be Co-Senior Managing Directors of the IRR-San Francisco office, which will serve the Silicon Valley, home to many of the world's top technology companies and a cutting-edge local economy. Jordan and Segal will be Co-Senior Managing Directors of the IRR-Sacramento office, which serves the State Capitol and the entire Central Valley region.
The opening of IRR's new California offices located at 315 Montgomery Street, 9th Floor, San Francisco, and 3825 Atherton Road, Suite 500, Rocklin expands the company's on-the-ground, local market coverage in Northern California, consistent with IRR's aggressive growth strategy. In less than 12 months, IRR has added eight new offices in San Francisco, Sacramento, Chicago, Puerto Rico, Austin, San Antonio, Housing, and Dallas/Ft. Worth.
"As we continue to expand coast-to-coast, it was important to quickly reestablish our local market presence in Northern California, one of the nation's top real estate investment markets," says Anthony M. Graziano, MAI, CRE, Chairman of IRR. "Not only were we looking to bring on the best talent in the marketplace, but we found partners whose core values align with Integra's ethos and entrepreneurial spirit. SJZ has developed an excellent reputation in the Northern and Central California real estate valuation industry for more than 40 years. We welcome Lance, Kevin, Eric, and Nelson, and their entire team to IRR."
Founded in 1975, SJZ has grown into one of the largest private commercial appraisal firms in Northern California. The firm routinely handles assignments throughout California, as well as parts of Nevada. Notably, the firm recently appraised the Bay Meadows Redevelopment for the City of San Mateo, which involved the redevelopment of approximately 52 acres proposed for 1,121 residential units, 85,000 square feet of retail space and 725,000 square feet of office space. The firm also appraised the redevelopment of the Hunters Point Shipyard (Phase I) for the City of San Francisco, proposed for the construction of 1,142 residential units.
"Over the past four decades, we have built our business on trust, integrity and customer service," said Jordan. "Becoming part of Integra ensures we will be able to serve our clients in the best manner possible with market-leading technology, advanced market research and analytics, and the support of a nationwide, managed network of highly respected, MAI-designated professionals. Our partnership with IRR allows us to realize our long-term goal of expanding into the San Francisco Bay Area market. We couldn't be more pleased with our decision to join IRR."
Jordan and Ziegenmeyer joined the partnership of SJZ in 1997. Over the last decade, Jordan led the SJZ team in staff development, operations and the lending valuation practice, while Ziegenmeyer focused on the appraisal of large, master-planned communities and agricultural properties, with specialized expertise in the valuation of Community Facilities Districts and Assessment Districts.
Following the retirement of P. Richard Seevers, MAI, in 2012, Segal and Wong joined the Seevers Jordan Ziegenmeyer partnership. Along with Ziegenmeyer, Segal has developed a specialty in the appraisal of Community Facilities Districts and Assessment Districts. Segal also brings extensive experience in the valuation of multi-family properties under the U.S. Department of Housing and Urban Development's Multifamily Accelerated Processing (MAP) guidelines. Since joining the partnership, Wong has worked with Jordan on staff development and lending valuation assignments. In recent years, both Jordan and Wong have also provided consulting services and expert-witness testimony in litigation-support matters.
The two new Northern California IRR offices will focus on appraisal and consulting services for a wide variety of clients including commercial banks, private equity lenders, municipalities, public / governmental entities, and private investors. They will also continue to offer expert testimony and extensive real estate consulting services consistent with IRR's platform of core advisory services.