Leveraging our national expertise and deep local knowledge, we deliver superior service and client satisfaction. We support portfolio work in a variety of areas: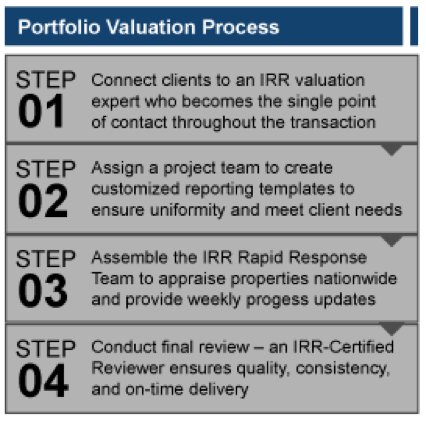 Real estate acquisition
Portfolio monitoring
Mortgage finance
Real estate disposition
Value reporting
Advisory services
Our commitment to quality ensures that clients receive accurate, reliable service - critical to the success of their needs. With a focus on uniformity in quality and reporting in all portfolio assignments, we provide a single point of contact / portfolio manager to streamline the portfolio management process.
IRR is uniquely positioned to deliver consistent, timely reporting on all portfolio assignments through our dedicated Rapid Response Team. The team is comprised of our senior valuation experts, located throughout the U.S., coupled with IRR Certified Reviewers who can complete your portfolio valuation efficiently and successfully.