4 Women Leaders from IRR Appointed to Prestigious Industry Leadership Positions Dec 4, 2018
FOR IMMEDIATE RELEASE
Four Prominent Women Leaders from Integra Realty Resources
Appointed to Prestigious Industry Leadership Positions
Michelle Alexander Assumes Governor-Appointed Position with Tennessee Real Estate Appraiser Commission;
Beth Finestone, Lori Safer & Stacey Nicholas Elected President of Local AI Chapters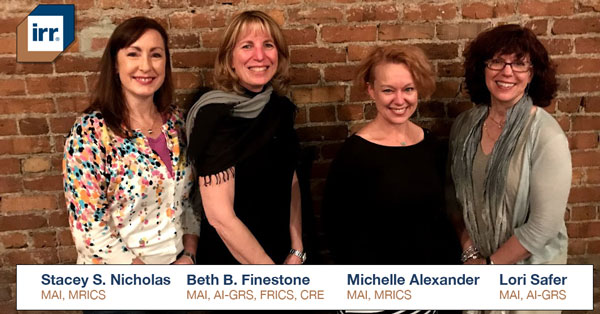 DENVER, CO — (December 4, 2018) —Integra Realty Resources (IRR), one of North America's largest independent commercial real estate valuation and consulting firms, today announced the appointment of four prominent women company leaders to prestigious industry groups.
"On behalf of the entire team at Integra Realty Resources, we congratulate Michelle, Beth, Lori and Stacey on their prestigious industry appointments," says Anthony M. Graziano, MAI, CRE, Chairman of Integra Realty Resources. "We are proud to have such an impressive group of women on our team. Each has made a tremendous impact on the industry by dedicating their time and energy to advancing the real estate valuation profession."
IRR continues its strategic expansion nationwide. The company has added 17 offices nationwide, launched IRR-Hotels, a hotels specialty practice group, and significantly expanded its Litigation Practice Group and Healthcare & Senior Housing specialty practice.
About Integra Realty Resources (IRR)
Integra Realty Resources (IRR) is the largest independent commercial real estate valuation services firm in North America, covering more than 60 markets with over 600 employees throughout the United States, and the Caribbean. The firm specializes in real estate appraisals, feasibility studies, market studies, expert testimony, and related property consulting services. Many of the nation's largest and most prestigious financial institutions, developers, corporations, law firms, and government agencies are among IRR's clients. In 2017, IRR completed more than 23,000 assignments across 60 metro markets totaling more than $257 billion in asset value. For more information, visit www.IRR.com