IRR-Seattle's Allen Safer Tapped as Guest Speaker at IPT's Annual Property Tax Symposium Dec 10, 2019
FOR IMMEDIATE RELEASE
Integra Realty Resources' Allen Safer Tapped as Guest Speaker
at IPT's Annual Property Tax Symposium in Seattle, WA
Safer Presented, 'Land Values: Coping with Highest and Best Use
Land Values and Established Uses'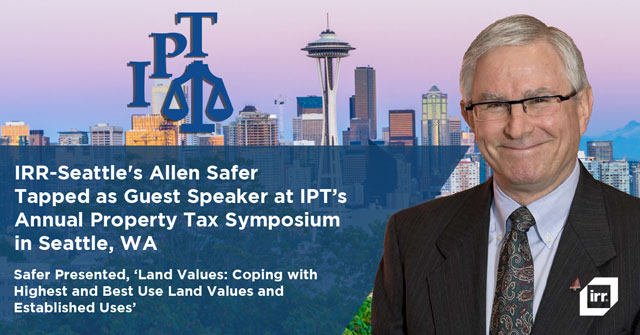 SEATTLE — (December 10, 2019) — Allen Safer, MAI, MRICS, a shareholder in the Seattle office of national commercial real estate valuation firm Integra Realty Resources (IRR), was recently a guest speaker at the Institute for Professionals in Taxation (IPT)'s Annual Property Tax Symposium. Safer, who brings more than 40 years of experience in counseling and valuation analysis for real estate assets in Washington State and Alaska, was tapped to present on 'Land Values: Coping with Highest and Best Use Land Values and Established Uses.'
Held at the Hyatt Regency Seattle last month, IPT's Property Tax Symposium is designed for experienced tax professionals and features the latest in ad valorem tax issues and best practices in tax management, compliance and valuation. The event provides tax professionals from throughout the United States and Canada, with the opportunity to gather, network and exchange ideas.
"This is a great event and attracted tax professionals from all of north America," said Allen Safer, MAI, Executive Director, Integra Realty Resources – Seattle. "Land values continue to be a hot topic in commercial real estate tax appeals, and we are proud to have been able to lend our expertise."
Safer's broad experience spans more than four decades and includes conducting market studies, appraisals and appraisal reviews across a wide range of property types including, vacant land, residential plats, multifamily developments, retail, office, industrial and special purpose properties. Clients include various financial institutions, pension and advisory companies, investment firms, law firms, accounting firms, public agencies, and the general public. Allen entered the appraisal profession in 1978 and became a founding partner in Integra Realty Resources – Seattle in 2002. Allen has a Bachelor of Science degree from the University of Colorado Business School with a major in real estate.
The Institute for Professionals in Taxation, founded in 1976, is a 501(c)(3) nonprofit professional association serving over 5,000 members representing approximately 1,200 corporations, firms and taxpayers throughout the United States and Canada. IPT is dedicated to the uniform and equitable administration of state property, sales and income taxes and credits and incentives with a focus on minimizing the cost of tax administration and compliance.