Clint Cooper, MAI Joins IRR-Kansas City Office as Managing Director Feb 13, 2023
Seasoned Commercial Real Estate Professional Clint Cooper Joins
Integra Realty Resources' Kansas City Office as Managing Director
Cooper Brings More Than Two Decades of Commercial Banking
and Appraisal Experience to His New Role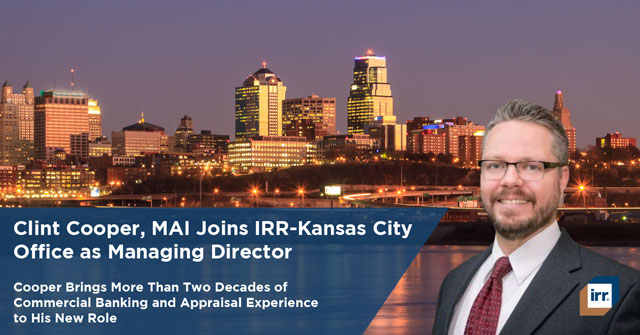 KANSAS CITY, Mo. — (Feb. 13, 2023) — Integra Realty Resources (IRR), one of North America's largest independent commercial real estate valuation and consulting firms, today announced Clint Cooper, MAI has joined its Kansas City, MO. office as Managing Director.

Cooper brings more than 20 years of experience in commercial banking and real estate appraisal to his new role, as well as extensive expertise having worked across virtually all commercial real estate property types.

"Clint has a proven track record of providing commercial real estate appraisal and consulting services throughout Missouri, plus the added benefit of commercial banking experience," said Bradley J. Schopp, MAI, Executive Director of IRR's Kansas City Office. "His unique skillset will be a tremendous asset to both our team and clients alike as we continue to grow our client base across the greater Kansas City metropolitan region and surrounding communities."

Cooper joins IRR from The Bank of Missouri, where he worked as a commercial real estate appraiser. He previously served as a commercial real estate appraiser with Moore & Shryock, as well as Southwest Valuation. Cooper's prior commercial banking experience includes years working as a loan review / financial analyst and commercial loan officer. In addition to holding the MAI designation, Cooper is licensed to appraise in Missouri, Arkansas and Kansas and has experience appraising a wide variety of commercial property types.
Located at 104 West 9th Street, Integra's Kansas City office specializes in providing comprehensive appraisal and consulting services across Missouri. Local team members bring expertise in all commercial real estate asset classes including office, industrial, retail, multifamily, hospitality, seniors housing and special use properties, as well as vacant land. IRR's clients utilize the company's services for lending purposes, financial reporting, estate planning, litigation support, eminent domain acquisitions, insurance, and market feasibility studies, among other areas of focus. For more information about Cooper and IRR's Kansas City office, visit www.irr.com/KansasCity