Crain's Exclusive: ARC to become IRR-Chicago Oct 9, 2017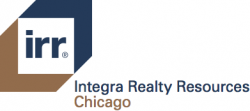 After nearly 50 years, property consulting firm enters new era
By Alby Gallun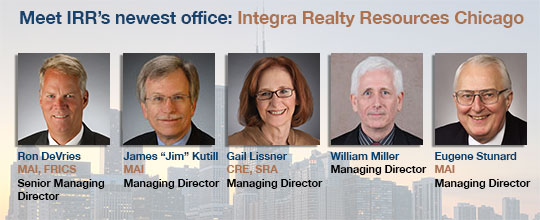 Appraisal Research Counselors, a prominent Chicago property valuation and advisory firm, is getting a new name and a big national partner.
Appraisal Research, best known for its work in the local apartment and condominium market, has reached a deal to become the Chicago office of Integra Realty Resources, a Denver-based appraisal and consulting firm with more than 50 offices around the country.
The move marks the end of an era for Appraisal Research, a firm founded in 1968 by Gene and Joan Stunard. It also represents a new beginning, giving the firm the broader reach it needs to capture business with big real estate firms seeking appraisal and consulting services in multiple markets, said Appraisal Research Vice President Ron DeVries.
"Everyone knows us in the Chicago market, but that isn't good enough anymore," DeVries said. "With real estate being global, investors and lenders are looking for national firms with name recognition. Integra gives us that platform."
DeVries, along with fellow Vice President Gail Lissner, are well-known in Chicago real estate circles, quoted often in the media and speaking frequently at industry events about the state of the local apartment and condominium markets. Until this year, they published the Benchmark Report, a thick quarterly analysis with a trove of details about rents, occupancies, condo sales and other key data.
Though the business will get a new name, it will continue to offer the same services, including appraisals, market studies and expert testimony, DeVries said.
"Everything that we were doing yesterday, we're doing tomorrow," he said.
But the deal will boost the firm's growth potential by giving it the national reach it currently lacks, he said. Say a bank client has a portfolio of 20 properties that need to be appraised, three in the Chicago area and the rest in other cities. Appraisal Research is at a disadvantage today because it can handle only the Chicago work.
"We've had clients ask us for years to help us in other markets for research on portfolio deals," DeVries said. "Now we can do that."
Though Appraisal Research is known for its work in the local housing market, that segment only represents about a third of its business. Office, retail, industrial and other segments account for the rest, DeVries said.
He declined to disclose the firm's revenue but said it employs about 35 people. He expects the firm to hire more after becoming part of the Integra network Nov. 1.
Gene Stunard, who still comes into the office, will remain with the firm. Under the deal, Appraisal Research investors are effectively buying an Integra franchise for Chicago and Illinois, though they will also own a stake in Integra's parent company, DeVries said.
Founded with 22 offices in 1999, Integra now has more than 50 in the United States and Caribbean and is looking for expansion opportunities in Canada. It had a Chicago office until December, when Chicago-based Jones Lang LaSalle bought it out.
Integra is "very excited" to join forces with Appraisal Research, said Anthony Graziano, Integra co-founder, chairman and CEO.
"They have a diversified base of services that matches our overall footprint," he said.