Integra Expands Midwest Presence with New Kansas City, MO Office Jun 3, 2020
FOR IMMEDIATE RELEASE
Integra Expands Midwest Presence with New Kansas City, MO Office,
Led by Brock Heyde, MAI
New Office Represents Integra's 10th Office in the Midwest and 58th Office Overall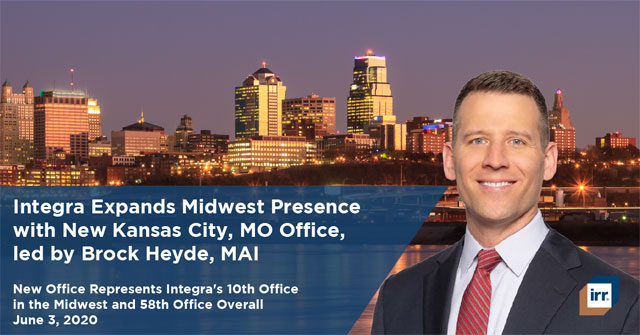 KANSAS CITY, MO — (June 3, 2020) —Integra Realty Resources (IRR), one of North America's largest independent commercial real estate valuation and consulting firms, today announced the expansion of its Midwest footprint with the opening of its second local office in Missouri: IRR-Kansas City.
Bradley J. Schopp, MAI, who serves as Executive Director of IRR's St. Louis office, is opening the new Kansas City office, along with Brock Heyde, MAI, who joins IRR as Senior Managing Director.
The IRR-Kansas City office has commenced operations at 1100 Main Street, Suite 400, Kansas City, Missouri. It represents IRR's tenth office in the Midwest, and the company's 58th office nationwide.
"We are delighted to announce the opening of our new Kansas City office," says Schopp, Executive Director of IRR-Kansas City and IRR-St. Louis offices. "With our growing book of business, there was a clear need to expand, but we needed the right team. We are thrilled to welcome Brock, who brings a stellar reputation and proven track record in the commercial real estate industry. He will be instrumental in leading the growth of our new office. Brock will prove to be a valuable asset as we look forward to better serve the needs of our regional clients."
Prior to joining IRR, Heyde, a Missouri native, served nearly a decade as a Director for Valbridge Property Advisors' Kansas City office. He brings experience across all property types including hotels, retail, office, industrial, and multifamily, as well as special-purpose properties including golf courses, movie theatres, schools, religious facilities, mobile home parks, and car washes. Active in industry associations, Heyde currently serves on the Board of Directors of the Kansas City Chapter of the Appraisal Institute and recently served on the Appraisal Institute's Leadership Development and Advisory Council (LDAC), where he traveled to Washington D.C. to help establish an "appraiser presence" in Congress. Heyde is a State Certified General Appraiser licensed in Missouri and Kansas and holds the MAI designation from the Appraisal Institute. He graduated from William Jewell College in Liberty, Missouri with a Bachelor of Arts degree in Business Administration.
"I'm thrilled and honored to be joining the IRR team as we rebuild our presence throughout the Kansas City region, where IRR was originally founded over 20 years ago," said Heyde. "With the expertise of our local office, along with the support of Tim Schoemehl and the St. Louis team, we can provide our clients with the highest level of quality and service across all of Missouri and Kansas. "
For more information about IRR's Kansas City team, visit www.irr.com/kansascity