Integra Promotes Matt Bacon to Senior Managing Director in Seattle, WA Oct 5, 2020
Integra Promotes Matt Bacon to Senior Managing Director in Seattle, WA
Commercial Real Estate Industry Veteran Joined Integra nearly 20 Years Ago;
Will Serve as Regional Market Leader Across Washington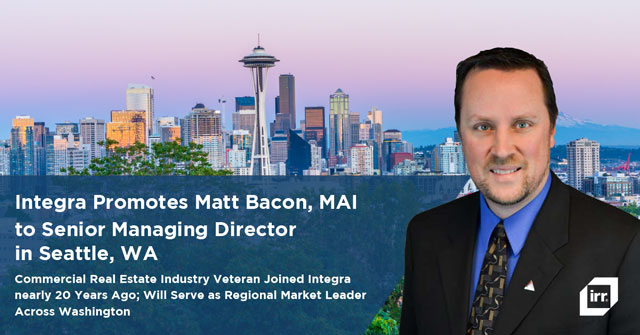 SEATTLE— (October 5, 2020) —Integra Realty Resources (IRR), one of North America's largest independent commercial real estate valuation and consulting firms, today announced the promotion of Matt Bacon, MAI to Senior Managing Director of the company's Seattle office. In his new role, Bacon will serve as regional market leader for Integra across Washington.
"Matt has shown tremendous dedication to the firm, our clients, and his profession over the past 20 years," said Allen Safer, MAI, Executive Director of Integra Realty Resources' Seattle office. "With the strength of our national network behind him, along with our technology leading platform, I am confident Matt will provide excellent leadership and ensure we continue to deliver best-in-class services to our growing list of clients across Washington."
Bacon began his appraisal career at Integra's Seattle office in 2002, following a two-year stint with a geotechnical consultant. He has been promoted over the years from Researcher to Senior Analyst to Managing Director to his current role. He brings extensive experience having handled valuation assignments for banks and institutional investors across a wide range of commercial properties, including industrial, office, retail, apartment buildings, self-storage facilities, residential subdivisions, gas stations/convenience stores, and medical office properties. He has completed specialty assignments involving right‑of‑way and condemnation, easement valuation, air rights, lease renewals, establishing market lease rates, and financing and estate purposes.
Dedicated to his professional development, Bacon is an active member of the Appraisal Institute, having earned the prestigious MAI designation—the highest standing that is available to an appraiser. He has served on several leadership committees over the years as an active member of the Seattle Chapter of the Appraisal Institute, including his current position as a member of the Chapter Board of Directors. He is a certified general real estate appraiser in Washington and Oregon.
Integra Realty Resources' Seattle office provides valuation and consulting services across a wide range of commercial real estate property types with special emphasis on investment-grade assets. The office's prestigious client list includes pension funds, investment advisory firms, corporations, law firms, CPAs, developers, lenders, private investors, governmental agencies, property owners, and other professionals concerned with the value, use, and feasibility of real estate. For more information about IRR-Seattle, please visit www.irr.com/seattle