Integra Realty Resources Opens 3 New Offices Nov 15, 2018
FOR IMMEDIATE RELEASE
Integra Realty Resources Expands Coverage with Three New Offices in
Pittsburgh, Pa.; New Orleans; & Little Rock, Ark.
Represents 17 New IRR Office Openings in Recent Months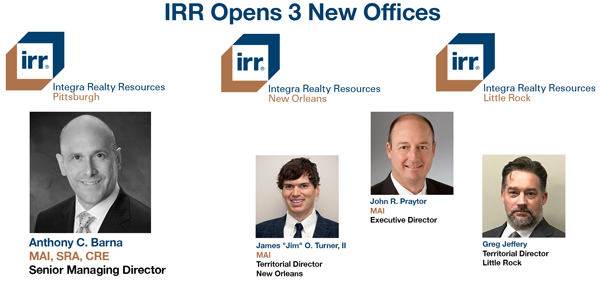 DENVER, CO — (November 15, 2018) —Integra Realty Resources (IRR), one of North America's largest independent commercial real estate valuation and consulting firms, today continued its strategic expansion with the opening of three new local offices: IRR-Pittsburgh, IRR-New Orleans and IRR-Little Rock.
"The opening of our new local offices increases our strong presence nationwide and further enhances our ability to service multi-market, portfolio assignments," says Anthony M. Graziano, MAI, CRE, Chairman of Integra Realty Resources. "We are delighted to reestablish a local presence in Steel City and to do so with such a highly skilled group of professionals. Tony, Brian, and Bill bring more than 90 years of combined industry experience that complements our specialty practice groups, particularly in providing litigation support services. We are equally delighted to expand our Mid-South regional market coverage under the leadership of John Praytor. John is a well-respected, entrepreneurial leader who has built a dynamic team of experienced commercial real estate appraisers across our five regional offices."
Kelly Rielly Nell Barna & Associates, a highly respected, third-generation appraisal and advisory firm that has thrived in the Pittsburgh market over the past 56 years, has joined to form the company's newly opened IRR-Pittsburgh office. Effective immediately, 8 employees from Kelly Rielly Nell Barna Associates join IRR-Pittsburgh, under the management of IRR's newest shareholders: Anthony C. Barna, MAI, SRA, CRE, who joins as Senior Managing Director; Brian P. Kelly, MAI, SRA, who joins as Managing Director; and William W. Rielly, MAI, Esquire, who joins as Managing Director. The opening of IRR's new Pittsburgh office, located at 3535 Boulevard of the Allies in Oakland, expands the company's market coverage to encompass the entire Western Pennsylvania region.
Barna commented, "When the opportunity to join Integra arose with the availability of the Pittsburgh flag, we jumped on it. The three of us—myself, Bill and Brian—have worked together over the past 30 years serving the Greater Pittsburgh Market and are ready for this next chapter of growth. With the support of IRR's national platform and endless resources to grow our business, not only will be able to better serve our existing clients but we will also be able to apply our specialty expertise in a broader geography. We've already expanded our team and hit the ground running. We couldn't be more excited about being part of the Integra team."
John R. Praytor, MAI, who serves as Executive Director of IRR's network of Mid-South regional offices including IRR-Memphis, IRR-Gulfport and IRR-Jackson as Executive Director, will lead the two new Mid-South offices, along with James "Jim" O. Turner, II, MAI, who will serve as Territorial Director of IRR-New Orleans office of 4 professionals, which has commenced operations at 643 Magazine Street, Suite 330; and Greg Jeffery, who joins IRR as Territorial Director of IRR-Little Rock office of 4 professionals, which has commenced operations at 8201 Ranch Boulevard, Building B1, Office 6.
Other IRR Directors who share an active leadership role in the newly opened Mid-South regional offices include, Michelle Alexander, MAI, Multifamily Valuation Director; J. Walter Allen, MAI, Litigation/Consulting Director; and Jonathan Stone, MAI, Industrial Valuation Director.
Praytor commented, "These new office openings are a natural evolution. We've long served these markets from our other Mid-South regional offices, but both New Orleans and Little Rock are growing markets and the timing was right to expand. Our local clients are extremely happy to have us even closer to them now, and we're thrilled to be able to service these markets more competitively with an on the ground team."
This announcement alights with IRR's aggressive growth strategy. The company has added 17 offices nationwide, launched IRR-Hotels, a hotels specialty practice group, and significantly expanded its Litigation Practice Group and Healthcare & Senior Housing specialty practice.
For more information, visit www.irr.com
About Integra Realty Resources (IRR)
Integra Realty Resources (IRR) is the largest independent commercial real estate valuation services firm in North America, covering more than 60 markets with over 600 employees throughout the United States, and the Caribbean. The firm specializes in real estate appraisals, feasibility studies, market studies, expert testimony, and related property consulting services. Many of the nation's largest and most prestigious financial institutions, developers, corporations, law firms, and government agencies are among IRR's clients. In 2017, IRR completed more than 23,000 assignments across 60 metro markets totaling more than $257 billion in asset value. For more information, visit www.IRR.com