Integra Realty Resources Opens Dallas/Ft. Worth Office Aug 1, 2017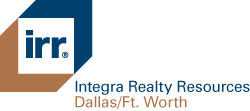 IRR has just opened an office in Dallas/Ft. Worth, TX. The opening of this new office is the latest in a series of new IRR partnerships in Texas.
Heading the Dallas/Ft. Worth office will be Jimmy H. Jackson, MAI, who has been actively engaged in real estate appraisal for over 33 years. Read our press release below announcing the news to learn all about our new Dallas/Ft. Worth office.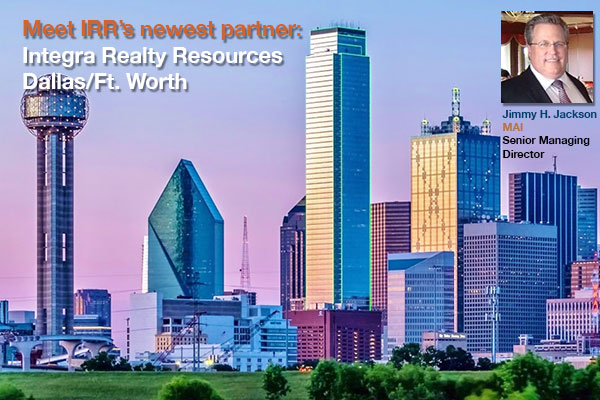 FOR IMMEDIATE RELEASE
Integra Realty Resources Opens Dallas/Ft. Worth, TX. Office
DALLAS, TX —August 1, 2017— Integra Realty Resources (IRR), North America's largest independent commercial real estate valuation and consulting firm, announced today that it has re-established operations under new leadership in the Dallas/Ft. Worth market. The new office, located at 1100 Mira Vista Blvd., Suite 300, Plano, TX 75093, will bring its services to Dallas/Ft. Worth and Northeastern Texas under the management of IRR's newest shareholder, Jimmy H. Jackson, MAI. Additionally, a Ft. Worth branch office will also be opening in the next few months. With these openings, IRR has added five new offices in Texas since February.
IRR specializes in valuation of office, retail, industrial, multifamily, and other types of commercial properties. Services offered include valuation for lending purposes, litigation support, market/feasibility studies, insurance appraisals, and eminent domain consulting, among other services.
"Integra Realty Resources, Inc. is excited that it will be represented in Dallas/Ft. Worth by the Jackson Claborn team under the leadership of Jimmy H. Jackson" says Anthony M. Graziano, MAI, CRE, Chairman of Integra Realty Resources. "The Dallas/Ft. Worth metroplex is the 2nd fastest growing MSA in the United States, with one of the highest concentrations of corporate headquarters in the nation. Jimmy and his team align with Integra's ethos and entrepreneurial spirit, and IRR is pleased to be back in DFW."

Jimmy H. Jackson, has over 33 years of experience as a commercial appraiser as well as years of experience as a seasoned real estate developer/investor. Prior to joining IRR, Jackson was one of the original two founding partners of Jackson Claborn, Inc. (JCI), a real estate consulting/valuation firm that was established in 1993. Some of the key leaders of JCI have been in place since the firm was founded in early 1993. JCI quickly grew to have one of the largest staffs of commercial and residential appraisers in the Southwest US.
"The opportunity to join IRR was evaluated closely from many angles. JCI's top management personnel attended IRR's Spring 2017 Stockholders Meeting and were able to interface directly with IRR's leadership as well as many of the IRR partners across the US. It was quite evident that IRR possesses a culture that displays a high degree of professionalism and a commitment to providing their clients with the best consulting expertise," said Mr. Jackson. He added, "Major enticements to JCI were the cutting edge IRR software technology platform as well as IRR's vast Commercial Real Estate database. These two factors have made it possible for IRR to grow specialized practice groups across the country much like the leading international accounting firms. It is very clear to JCI that IRR's consulting platform is and will remain well ahead of the rest of the commercial real estate valuation and consulting industry."
"The Dallas and Fort Worth Offices will focus on appraisal and consulting services for a wide variety of clients including commercial banks, private equity lenders, city municipalities, public/governmental entities, and private investors. We will also offer expert testimony and extensive appraisal consulting services." said Mr. Jackson. "JCI has maintained an excellent reputation in the DFW real estate valuation industry for over 24 years. Our business model was built on trust, integrity and customer service. Becoming IRR-Dallas/Ft. Worth ensures we will be able to serve our clients across the US in the best manner possible with market leading technology, advanced market research and analytics, and the support of a nationwide, extensive network of highly respected MAI's."
About Integra Realty Resources (IRR)
With corporate offices in Denver, CO, IRR is the largest independent commercial real estate valuation services firm in North America, covering over 60 markets with 650+ employees located throughout the United States, and the Caribbean. Founded in 1999, the firm specializes in real estate appraisals, feasibility studies, market studies, expert testimony, and related property consulting services. Many of the nation's largest and most prestigious financial institutions, developers, corporations, law firms, and government agencies are among its clients. For more information, visit www.IRR.com.
Company contact:
Antoine Charvet
Corporate Communications Director
Integra Realty Resources
Main: 212-255-7858 x2003
[email protected]