Integra Realty Resources Opens New Office in Grand Rapids, MI Jan 6, 2020
FOR IMMEDIATE RELEASE
Integra Realty Resources Expands Michigan Presence with New Grand Rapids Office
Leading Regional Valuation Firm, Genzink Appraisal Company, Joins IRR;
Represents IRR's Second Office in Michigan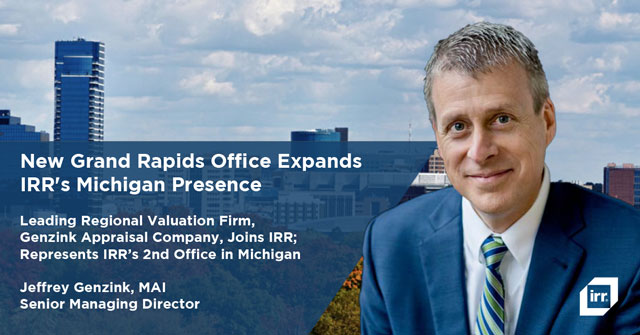 GRAND RAPIDS, MI —Integra Realty Resources (IRR), one of North America's largest independent commercial real estate valuation and consulting firms, announced its expansion in Michigan with the opening of a new office in Grand Rapids, Michigan.
As of October 1, 2019 Genzink Appraisal Company became Integra Realty Resources' new Grand Rapids office under the management of IRR's newest shareholder Jeffrey Genzink, MAI, a highly respected industry professional with 30 years of commercial real estate experience. The new office represents IRR's second office in Michigan, joining IRR-Detroit, and the 54th office overall.
"Grand Rapids is one of the nation's fastest growing economies and an important market for our clients," says Anthony M. Graziano, MAI, CRE, Chairman of IRR. "As such, we are so pleased to open our new office here and expand our on-the-ground coverage to better serve our regional clients' growing needs. Jeff and his entire team at Genzink Appraisal Company bring a stellar reputation serving the West Michigan market over the past three decades, and we welcome them to our growing team."
Founded by Jeff Genzink in 1998, Genzink Appraisal Company has grown into one of the leading private commercial appraisal firms in Western Michigan. The company has provided real estate appraisal services across a wide range of property types. The firm has extensive experience in partial takings, easement valuations and diminution-in-value assignments, which include environmental, title defects, and eminent domain. Additional appraisal and counseling assignments have been completed for estate planning, tax appeal, charitable tax contribution, divorce settlement, acquisition and disposition, and loan underwriting. The firm also provides litigation support for real estate cases, as Mr. Genzink is a qualified expert witness and has testified in Federal, State and County Courts.
"We are excited to be part of Integra Realty Resources' highly regarded team," said Jeff Genzink, MAI, Senior Managing Director of IRR-Grand Rapids. "Joining Integra enhances our ability to serve our clients in the best manner possible with market-leading technology, advanced market research and analytics, and the support of a nationwide network of highly respected, MAI-designated professionals. While the name is new, our people and approach are still the same: with an emphasis on integrity and excellence."
The combination of the Grand Rapids and Detroit office will now offer a broader coverage area and more specialty practices, which include litigation, healthcare & senior housing and hotels. For more information about the Grand Rapids or Detroit office please visit www.irr.com/grandrapids, or www.irr.com/detroit