Integra Realty Resources Opens New Office in Orange County, CA Aug 6, 2019
FOR IMMEDIATE RELEASE
Integra Realty Resources Expands Coverage in Southern California:
Acquires The Kiley Company to Open New Orange County Office
IRR Now has Five Local Offices Throughout California and More than 50 Offices Across the United States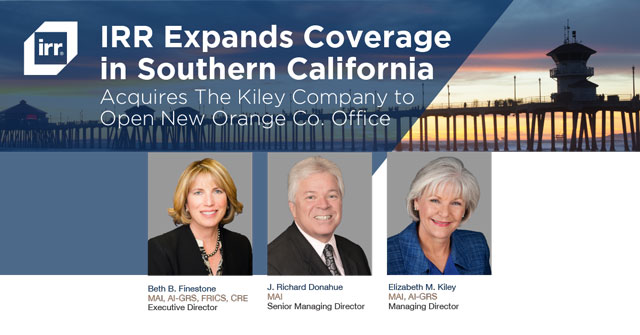 DENVER, CO — (August 6, 2019) —Integra Realty Resources (IRR), one of North America's largest independent commercial real estate valuation and consulting firms, today announced the opening of a new local office in Orange County, California. The IRR-Orange County office opens through the acquisition of The Kiley Company, one of Southern California's most notable real estate consulting and valuation firms that has served the market for three decades.
Effective immediately, all existing employees of The Kiley Company form the new office under the management of Beth B. Finestone, MAI, AI-GRS, FRICS, CRE who will serve as Executive Director. J. Richard (Rick) Donahue, III, MAI, rejoins IRR as Senior Managing Director of the new Orange County Office, and Elizabeth M. Kiley, MAI, SRA, AI-GRS, founder of the Kiley Company, will serve as Managing Director. The opening of the new office located at 2151 Michelson Drive, Suite 205, Irvine, CA 92612, expands IRR's on-the-ground, local market coverage in Southern California.
"Beth Kiley and her team have developed a stellar reputation serving Southern California over the past 30 years, and we couldn't be more excited than to welcome them to Integra," says Anthony M. Graziano, MAI, CRE, Chairman of Integra Realty Resources. "We are equally delighted to welcome back Rick and have Beth lead our Orange County Office, as both bring tremendous expertise in the right-of-way arena. Not only does this new office solidify our market coverage across California, but it further enhances our ability to service multi-market, portfolio assignments."
Founded in 1990, The Kiley Company has grown into one of the leading appraisal firms in Southern California. The firm routinely handles assignments throughout the region, including Orange, Los Angeles, Riverside, San Bernardino, and San Diego Counties. Notably, the firm recently appraised 23 complex commercial appraisals for the Interstate-5 widening and is currently working on 16 appraisals associated with the State Route 55 project. The team also worked on the appraisal of the Seal Beach Naval Weapons station for the recent Interstate-405 project. The firm is also well experienced in serving the needs of the financial community and routinely reviews outside appraisals for a number of their clients.
Finestone also serves as Managing Director of Integra Realty Resources – Los Angeles. She has been with Integra since 2004 and has been appraising in Southern California over the past 40 years. She specializes in valuation and consulting services related to public agency and right-of-way clients and for major investment-grade commercial properties and special purpose properties. Finestone is experienced in valuing partial and full acquisitions related to eminent domain actions. These services include the valuation of railroad and other types of corridors, pipeline easements and transmission line easements. She also has expertise in valuing large tracts of land for mitigation and other purposes, including conservation easements. Finestone's services include a wide range of specialized studies including tax appeals, diminution in value, market demand, feasibility, investment analysis, and minority interests. She also acts as a review appraiser for many public agencies. Finestone has been a featured speaker at Appraisal Institute, International Right of Way, and legal functions. She is the 2019 President of the Southern California Chapter of the Appraisal Institute, the largest chapter in the country.
Donahue is a 42-year commercial real estate appraisal industry veteran. Prior to re-joining Integra Realty Resources - Orange County, he was part of a new Right-of-Way valuation team at Cushman & Wakefield. Donahue's experience includes general and special purpose real estate appraisals, litigation support, portfolio valuations, investment analysis, condemnation consulting, due diligence investigation, lease-by-lease analysis, highest and best use studies, market studies, and feasibility analysis. He also specializes in non-profit, right-of-way and institutional property valuation in addition to a wide variety of investment real estate. Over the years, he has served a wide range of clients including public agencies, attorneys, investors, banks, portfolio advisors, public agencies, utility companies, fund advisors, non-profit companies and private parties. Donahue, a Past President of the Southern California Chapter of the Appraisal Institute and a former member of the Institute's National Board of Directors, is also affiliated with International Right of Way Association (IRWA).
With 40 years of industry experience, Kiley has appraised properties across all product types, as well as leasehold, leased fee, partial interests, condemnation properties, mass appraisals, and special-use properties. She has worked on behalf of a prestigious client roster of owners, lenders, public agencies, and attorneys. She has served as an expert witness in the U.S. District Court, U.S. Bankruptcy Court, and the Superior Court of California. Kiley is an approved instructor for the Appraisal Institute, has been a Corporate Sponsor of the Chapman University School of Business & Economics and is affiliated with International Right of Way Association (IRWA).
For more information, visit www.irr.com/OrangeCounty