Integra's Gary S. Wright Honored with President's Award from The Appraisal Institute Oct 19, 2020
Integra's Gary S. Wright Honored with Highly Coveted President's Award from The Appraisal Institute
Prestigious Award is Presented to Top Appraisers Who Uphold the Association's Mission to Advance Professionalism, Ethics, Global Standards, Methodologies, and Practices Industrywide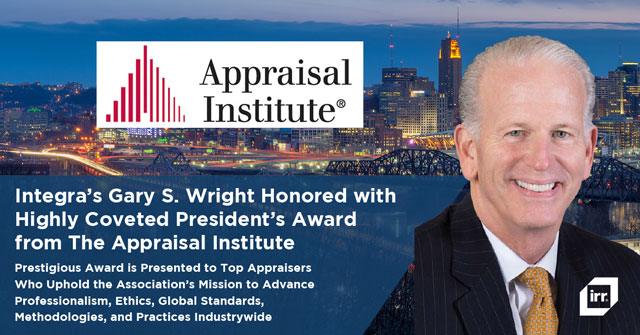 CINCINNATI/DAYTON, OH — (October 19, 2020) —Integra Realty Resources (IRR), one of North America's largest independent commercial real estate valuation and consulting firms, today announced Gary S. Wright, MAI, SRA, Senior Managing Director of IRR's Cincinnati/Dayton, Ohio office, has received the President's Award from the Appraisal Institute. The national award honors a standout Appraisal Institute professional who is committed and actively engaged in the association's activities and mission to advance professionalism and ethics, global standards, methodologies, and practices through the professional development of property economics worldwide.
"I am honored to have received this prestigious award," said Wright. "I've worked in the appraisal industry for nearly 50 years and it's more important than ever to be active in sharing our industry knowledge, as well as promoting professionalism and ethics. It's been a privilege working alongside the Appraisal Institute to foster and promote the highest standards industrywide."
Committed to his profession, Wright, earned the Appraisal Institute's MAI designation—the highest standing that is available to an appraiser—as well as the SRA (Senior Residential Appraiser) designation. Wright currently serves as Chair of the Appraisal Institute Insurance Trust. He formerly served as Chair of Region V and was a member of the national Board of Directors.
During Wright's nearly 50-year career, he has worked on behalf of government entities, corporations and attorneys, including, the General Services Administration (GSA), Internal Revenue Service (IRS); Federal Aviation Administration (FAA), Department of Housing & Urban Development (HUD), Federal Deposit Insurance Corp (FDIC) and the Archdiocese of Cincinnati. Wright has also completed assignments on behalf of financial institutions, pension funds, conduits, REITs, including but not limited to: PNC Bank, Fifth Third Bank, US Bank, JPMorgan Chase Bank, Huntington National Bank, Bank of America, Wells Fargo, CSX and Cincinnati Development Fund.
The Appraisal Institute is a global professional association of real estate appraisers, with over 17,000 professionals in almost 50 countries throughout the world. Its mission is to advance professionalism and ethics, global standards, methodologies, and practices through the professional development of property economics worldwide. Organized in 1932, the Appraisal Institute advocates equal opportunity and nondiscrimination in the appraisal profession and conducts its activities in accordance with applicable federal, state and local laws. Individuals of the Appraisal Institute benefit from an array of professional education and advocacy programs, and may hold the prestigious MAI, SRPA, SRA, AI-GRS and AI-RRS designations. Learn more at www.appraisalinstitute.org