IRR Continues Texas Expansion, Opens Rio Grande Valley Office Mar 19, 2020
FOR IMMEDIATE RELEASE
Integra Realty Resources Continues Texas Expansion, Opens Rio Grande Valley Office
New Office Represents Integra's Seventh Office in Texas and 56th Office Overall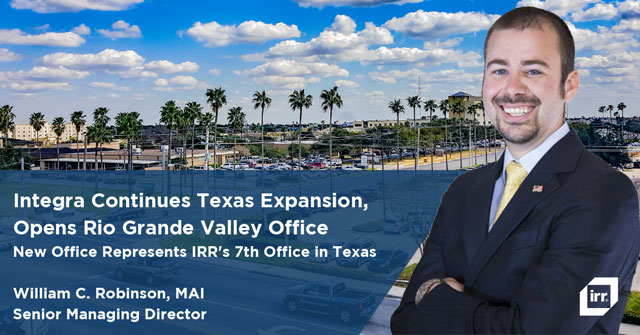 RIO GRANDE, TX — (March 19, 2020) —On the heels of opening a new office in Lubbock, TX last month, Integra Realty Resources (IRR), one of North America's largest independent commercial real estate valuation and consulting firms, today announced its continuing expansion across Texas with the opening of a new local office in the Rio Grande: IRR-Rio Grande Valley.
William C. Robinson, MAI, who brings nearly 15 years of commercial real estate experience and serves as Managing Director of IRR's San Antonio office, will lead the new Rio Grande Valley office as Senior Managing Director, along with Adam Solis, who joins IRR from Lone Star National Bank and will serve as a Senior Analyst.
The IRR-Rio Grande Valley office has commenced operations at 1601 West Trenton, Suite L108 in Edinburg. It represents IRR's seventh office location in Texas, joining IRR-San Antonio, IRR-Dallas, IRR-Fort Worth, IRR-Houston, IRR-Austin, and IRR-Lubbock, and is the company's 56th nationwide.
"We have experienced significant growth in the Rio Grande Valley in recent years, which has seen a significant increase in population," says Robinson, Senior Managing Director of IRR-Rio Grande Valley. "The opening of a local office in Rio Grande Valley is a natural progression for our San Antonio branch. We recently hired Adam Solis, who brings significant local experience and relationships in the banking sector, to assist in our growth and we will look to continue to expand our team to meet the growing demand for our services. We are excited by the opportunity to provide high-quality appraisal services here in Rio Grande Valley to current and new clients and anticipate continued growth into the foreseeable future."
Robinson brings more than a decade of experience as a commercial real estate appraiser. Prior to joining Integra, Robinson co-founded Meridia Appraisal Group in 2014. He was instrumental in business development, expanding the market footprint of Meridia throughout South and Central Texas. Through his leadership, Meridia grew into one of the leading regional appraisal and consulting firms. Previously, Robinson began his appraisal career at Weissler Appraisal Company and was a top producer within his company, focusing much of his time in the Laredo and South Texas market areas. Over the years, Robinson has completed a wide variety of real property valuation assignment across various property types on behalf of a prestigious client list that includes lending institutions, investment firms, accountants, law firms, governmental agencies, and various private/public entities. Robinson, a Texas native, holds a Bachelor of Business degree in Finance from Texas Tech University.
While with Lone Star National Bank, Solis worked as part of the Bank Management Program, and later, the Credit Department as Real Estate Appraiser | Vice President. During his tenure, Solis became a State Certified General Appraiser and was a tremendous asset in leading the bank's removal from a formal agreement with the OCC on appraisal-related matters. He also developed a strong knowledge and understanding of both FIRREA and USPAP, as well as implemented policies and procedures for the appraisal program, performed interior and exterior property inspections and prepared Appraisal Reports, Technical Reviews and Evaluation Reports for residential, commercial land, retail buildings, office buildings, apartment complexes and hospitality properties throughout the Rio Grande Valley.
For more information about IRR's Rio Grande Valley office, visit www.irr.com/riograndevalley.