IRR Expands Litigation Practice Group Oct 1, 2018
FOR IMMEDIATE RELEASE
Integra Realty Resources Welcomes Back Founding Member
Stephen T. Crosson as National Practice Leader of Expanding Litigation Practice Group
The Prominent Dallas Real Estate Executive Who Is One of The Country's
Most Sought-After Expert Witnesses Will Focus on Growing IRR's Litigation Group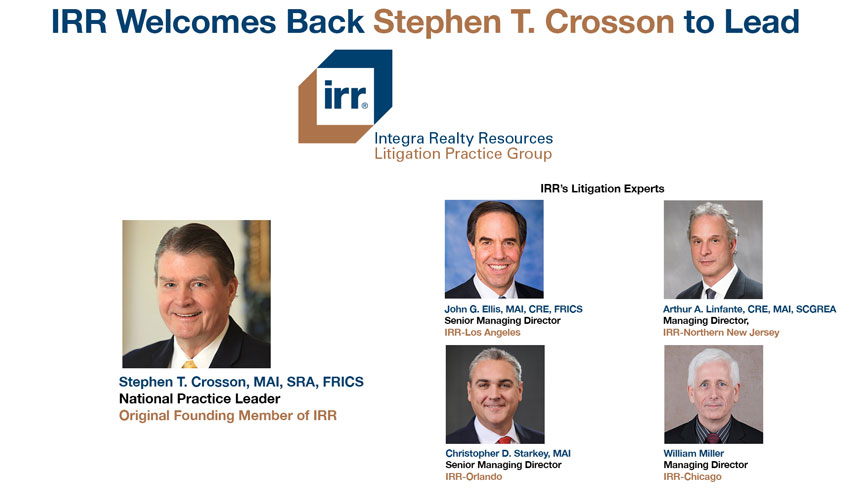 DENVER, CO — (October 1, 2018) — Integra Realty Resources (IRR), one of North America's largest independent commercial real estate valuation, research and consulting firms, today announced one of its original founding members, Stephen T. Crosson, MAI, SRA, FRICS, has joined as National Practice Leader of the Integra Litigation Practice Group. This group provides litigation support services for real estate-related legal cases throughout the U.S. and Caribbean.
With nearly 50 years of experience in high-stakes litigation support, Crosson is one of the country's most sought after expert witnesses. He will be based out of the IRR-Dallas office and focus on expanding the Integra Litigation Practice Group, working closely with seasoned litigation experts: John G. Ellis, MAI, CRE, FRICS, Senior Managing Director of IRR-Los Angeles; Arthur A. Linfante, CRE, MAI, SCGREA, Managing Director, IRR-Northern New Jersey; Christopher D. Starkey, MAI, Senior Managing Director, IRR-Orlando; and William Miller, Managing Director, IRR-Chicago.
"After more than 20 years following the formation of Integra Realty Resources, we couldn't be more excited to welcome back Steve," said Anthony M. Graziano, MAI, CRE, Chairman of IRR. "Some people say you can never go back home, but I'm proud our culture of opportunity welcomes back the best of the best. Integra has an extremely successful track record assisting clients with expert witness and litigation support services. Core to our ability to provide these services is both our independence and research discipline, which provides a strong foundation for well-trained experts. We look forward to leveraging Steve's expertise for the benefit of our clients and growing team alike."
Crosson joins Integra from his previous post with Chicago-based valuation and consulting firm, Capright, where he served as a Principal. Previously, Crosson served as Chairman and CEO of the highly-regarded Dallas firm Crosson Dannis, Inc. Crosson is the current and longest-serving Board Chair and Editor-in-Chief of The Appraisal Journal, the leading peer-reviewed scholarly journal for the real estate valuation profession, published by the Appraisal Institute. He has many published articles and was a contributor to the The Appraisal of Real Estate, Real Estate Valuation in Litigation, and The Dictionary of Real Estate Appraisal, as well as the third edition of The Appraisal of Rural Property. Crosson is also an active member of The Real Estate Council of Dallas and a founder of its well-attended Fight Night, one of North Texas' largest philanthropic events having raised more than $26 million since its inception in 1989.
"Integra is a best-in-class organization with unparalleled resources," said Crosson. "The company has managed to maintain its stellar reputation and market leading position over the years, and I'm thrilled to be back. I look forward to collaborating to expand its already highly-regarded litigation practice group and serving the company's exceptional client base."
Over the past 36 months, the Integra Litigation Practice Group, which has nearly two dozen senior appraisal members from coast-to-coast, has completed nearly 1,700 litigation assignments related to bankruptcy, lease disputes, rent resetting, value diminution, marriage dissolution, partnership dissolution, arbitration and mediation, and zoning and land use, among others, totaling more than $9.3 billion in asset value. Its prestigious client roster includes major law firms, corporations, REITS, government entities, and lenders, such as Greenberg Traurig, LLP, First American Title Insurance Co., FedEx, Walgreens, Bank of America, JP Morgan Chase Bank, and various state departments of transportation.
This announcement aligns with Integra's aggressive growth strategy. In addition to expanding its Litigation Practice Group, IRR has added more than 14 offices nationwide, launched IRR-Hotels, a hotels specialty practice group, and significantly expanded its Healthcare & Senior Housing specialty practice.
For more information, please visit Integra Litigation Practice Group.
About Integra Realty Resources (IRR)
Integra Realty Resources (IRR) is the largest independent commercial real estate valuation services firm in North America, covering more than 60 markets with over 600 employees throughout the United States, and the Caribbean. The firm specializes in real estate appraisals, feasibility studies, market studies, expert testimony, and related property consulting services. Many of the nation's largest and most prestigious financial institutions, developers, corporations, law firms, and government agencies are among IRR's clients. In 2017, IRR completed more than 23,000 assignments across 60 metro markets totaling more than $257 billion in asset value. For more information, visit www.IRR.com.