IRR Expands Texas Footprint, Opens Lubbock Office Feb 26, 2020
FOR IMMEDIATE RELEASE
Integra Realty Resources Expands Texas Footprint, Opens Lubbock Office
New Office Represents Integra's Sixth Office in Texas and 55th Office Overall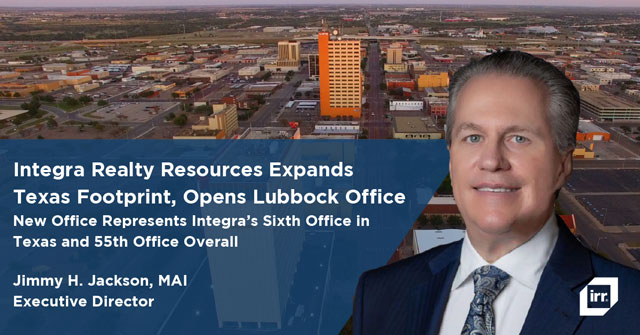 LUBBOCK, TX — (February 26, 2020) —Integra Realty Resources (IRR), one of North America's largest independent commercial real estate valuation and consulting firms, today announced its expanding its Texas footprint as it opens a new local office in Lubbock: IRR-Lubbock.
Jimmy H. Jackson, MAI, who has more than 35 years of commercial real estate experience and serves as Executive Director of IRR's Dallas office, will lead the new Lubbock office, along with Taylor M. Carmona, who joins IRR as Director.
The IRR-Lubbock office has commenced operations at 6309 Indiana Avenue, Suite D. It represents IRR's sixth office location in Texas, joining IRR-Dallas, IRR-Fort Worth, IRR-San Antonio, IRR-Houston, IRR-Austin, and the company's 55th nationwide.
"Lubbock has always been a great market for us, and we couldn't be happier to open an office here," says Jackson, Executive Director of IRR-Lubbock and IRR-Dallas. "It was a natural next step for us in terms of our westward expansion, as many of our Dallas-based banking clients are headquartered in Lubbock. There are also many growth opportunities with the strong economy that permeates from the nearby Permian Basin, which continues to drive record U.S. energy, and the tremendous agricultural industry, which provides for the bulk of the country's demand for food and fiber. We are equally delighted to have Taylor on board of our growing team, as he is a solid real estate practitioner and will be of great help as we expand our regional operations to serve our growing client roster."
Jackson, who grew up in nearby Floydada, TX—located 45 minutes northeast of Lubbock, brings decades of experience as a commercial appraiser, as well as years of experience as a real estate developer and investor. Prior to joining IRR, Jackson was one of the original two founding partners of Jackson Claborn Inc. (JCI), a real estate consulting/valuation firm established in Dallas in 1992. JCI quickly grew to have one of the largest staffs of commercial and residential appraisers in the Southwest United States. Jackson and his wife both graduated from nearby Texas Tech University where Jackson has served six years on the Rawl's College of Business Advisory Board.
Carmona brings nearly a decade of commercial real estate experience to IRR, most recently as part of JLL Valuation and Advisory Services. Carmona brings experience across all property types, having conducted valuations for portfolio management, market studies, and litigation support purposes. Carmona holds a Bachelor of Business Administration in Accounting from Texas Tech University.
For more information about IRR's Lubbock team, visit www.irr.com/lubbock