IRR Healthcare & Senior Housing Group's James Tellatin Lends Expertise in NPR News Segment Oct 26, 2020
Integra's Healthcare & Senior Housing Group National Practice Leader,
James Tellatin, Lends Expertise in NPR News Segment
Pioneering Industry Professional Provides Expert Commentary for Story About For-Profit Nursing Homes'
and their Pleas for Government Aid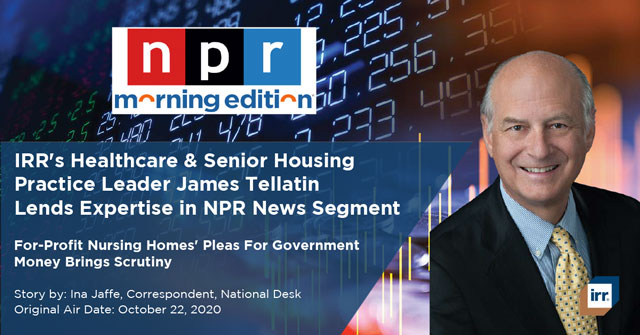 DENVER, CO — (October 26, 2020) —Integra Realty Resources (IRR), one of North America's largest independent commercial real estate valuation and consulting firms, is pleased to share a recent NPR news segment featuring expert commentary from its own James Tellatin, National Practice Leader of the company's renowned Healthcare & Senior Housing Practice Group.
In the segment entitled, 'For-Profit Nursing Homes' Please for Government Money Brings Scrutiny,' the author explores both sides of the topic, noting that recent studies suggest for-profit ownership may have endangered residents by skimping on care.
Tellatin, the consummate professional, lent his more than 40 years of healthcare and senior housing real estate appraisal and consulting experience to comment on the real estate aspects of the story. His commentary includes, "The real wealth generally in this industry is created through real estate and not so much through the [nursing home] operations. You need the operations to generate increased value to your real estate and other assets of the business."
Listen and/or read the full news segment online by clicking here.