IRR-Houston Welcomes Back Michael Welch, from Jones Lang LaSalle Nov 5, 2019
FOR IMMEDIATE RELEASE
Integra Realty Resources Welcomes Back Michael Welch, from Jones Lang LaSalle
The Seasoned Appraisal Industry Veteran is Frequently Sought Out Nationally For his Litigation Expertise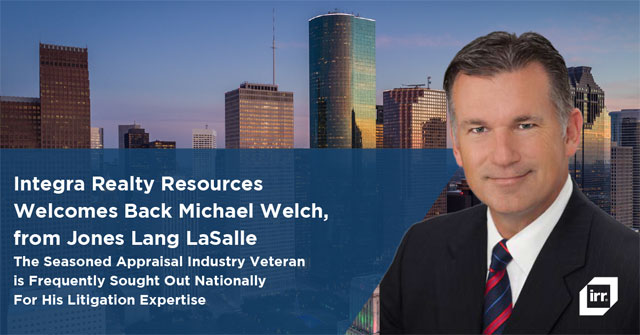 DENVER, CO — (November 5, 2019) —Integra Realty Resources (IRR), one of North America's largest independent commercial real estate valuation and consulting firms, today announced Michael Welch, SRWA, MRICS, has rejoined the company as Managing Director of the IRR-Houston office. Welch will work alongside IRR-Houston's Senior Managing Directors Todd Rotholz, MAI and Edward B. Schulz, MAI, SRA to further expand the company's consulting and litigation services.
"Integra couldn't be more excited to welcome back Mike," says Anthony M. Graziano, MAI, CRE, Chairman and CEO of IRR. "JLL's 2016 acquisition of our Houston group was a great opportunity for Mike, but we certainly missed his brand of leadership. He's driven by elevating the people around him, and he was always a force at Integra in helping us develop new leaders from within. Mike's decision to return to IRR is a tremendous addition to our people-first culture, and I'm confident he will help drive our continued success in Houston and beyond."
Rotholz added, "I have known Mike for more than two decades and have always had a great deal of respect for his leadership abilities, people skills, and passion for the work we do in our industry. We are thrilled to have him on our management team once again."
For the past three years, Welch served as Jones Lang LaSalle's Head of Valuation & Advisory Services business in the United States. Prior to that position, Welch spent more than 20 years with IRR, during which time he founded IRR-Houston's litigation department and helped it grow into one of the largest Integra offices in the country. Welch served on the Integra Board of Directors for 9 years, even serving briefly as Chairman of the Board prior to his resignation and departure for JLL in 2016.
"I am proud of the foundation I helped develop at JLL over the past few years and wish them the best of success as they look to continue to expand their valuation services platform," said Welch. "IRR remains solely focused on valuation and advisory work, and I appreciate this clarity of mission as part of my career path. While I will certainly miss many of my JLL colleagues, I'm looking forward to returning home to Integra's Houston Office. It's the environment in which I thrive and affords me the time to focus and drive to build and put really good people in a position to grow both personally and professionally."
With more than three decades of appraisal industry experience, Welch is nationally recognized for his specialty work in appraisal and consulting assignments for properties involved in litigation and large-scale infrastructure projects. He has completed litigation services and provided expert witness testimony for properties in County, State and Federal District courts and has conducted initial route studies, cost analysis, impact studies and valuations for more than 1,000 miles of linear projects including pipelines, electrical transmission lines, rail corridors, drainage facilities and major transportation roadways.
Welch has been involved in appraisal matters in more than 25 states and in more than 100 counties within Texas. He is a Certified General Real Estate Appraiser with the State of Texas, Louisiana, Oklahoma, Arkansas, Arizona and Pennsylvania. He is also actively involved with the International Right of Way Association, where he served as the Inaugural Chairman of the Young Leadership Council.
IRR – Houston's 20 valuation and advisory experts provide valuation, consulting, feasibility and market study services for commercial real estate assets. The office specializes in eminent domain and right-of-way appraisal services, as well as capital markets appraisals and litigation services.
For more information, please visit www.irr.com/houston