IRR-Los Angeles' Nicole B. Galvez Wins $100,000 Prize in Ten-X's Battle of the Bids May 26, 2022
Integra Realty Resources' Nicole B. Galvez Wins $100,000 Prize in Ten-X's Battle of the Bids
Seasoned Industry Professional Predicts Three Commercial Real Estate Property Sales Values and Wins First Place in Round 4 of the Games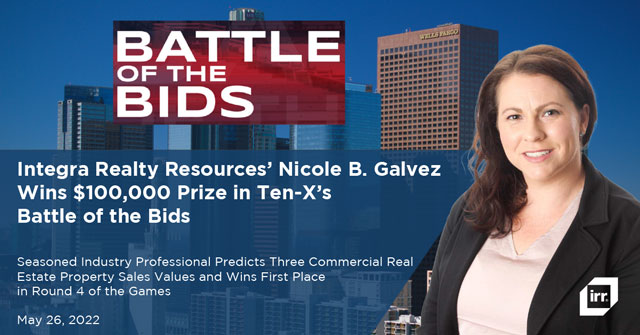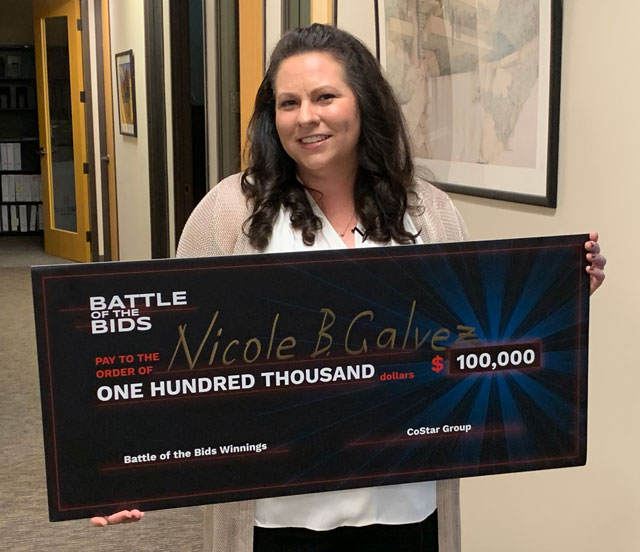 Click here to watch a video of Nicole being presented w/ her winnings.

LOS ANGELES — (May 26, 2022) —Integra Realty Resources (IRR), one of North America's largest independent commercial real estate valuation and consulting firms, today announced Nicole B. Galvez, a Senior Analyst in the company's Los Angeles office, has won first place in Round 4 of Ten-X's Battle of the Bids commercial real estate valuation contest, which comes with a $100,000 cash prize.
"Leveraging my decade of appraisal experience, along with a little bit of luck, I was able to perfectly guess the sales price of three different commercial real estate properties and earn first place in the latest round of Ten-X's Battle of the Bids," commented Galvez. "What a fun way to engage the commercial real estate community."
Galvez began her real estate appraisal career nearly a decade ago. She joined IRR's Los Angeles office in 2018. She specializes in right of way (ROW) and eminent domain assignments. Her responsibilities include preparing appraisal reports for vacant land, residential, commercial, industrial, and other income producing properties for institutional and acquisition purposes; partial acquisition valuation, including determination of severance damages and/or benefits for public projects; and preparation of cost studies for budget purposes involving public projects. Other assignments include appraisals for inverse condemnation. Types of projects appraised include street widening, freeway, pipeline, and flood control, among others. She's a certified general real estate appraiser and an active member of the International Right of Way Association (IRWA).
The eight-round Battle of the Bids game launched April 11 as a way for commercial real estate professionals to engage with the Ten-X platform in a unique way while having the opportunity to earn cash prizes. Battle of the Bids allows commercial real estate professionals to bet on Ten-X's real estate auctions. Participants select up to ten properties in each round and bet what they think each will sell for — the closer each bet is to the winning bid amount at the end of the auction, the more points they earn. In each of eight rounds, over 500 winners will claim prizes ranging from $100 to $100,000. The Battle of the Bids player that accumulates the most points throughout all rounds will become the grand prize winner and win $1 million, plus an additional $100,000 to donate to a charity of their choice. For more information, visit www.battleofthebids.com/properties.
IRR's Los Angeles office offers valuation and advisory experts that provide valuation, consulting, feasibility and market study services for commercial real estate assets. The office specializes in litigation services and handles quite a bit of eminent domain and right-of-way appraisal assignments. For more information, please visit www.irr.com/losangeles