IRR-Northern New Jersey Welcomes Back Susan B. Kennedy as Director of Research Feb 17, 2022
Integra Realty Resources' Northern New Jersey Office Welcomes Back Susan B. Kennedy as Director of Research
Seasoned Industry Professional Brings More than 25 Years of Experience to her New Role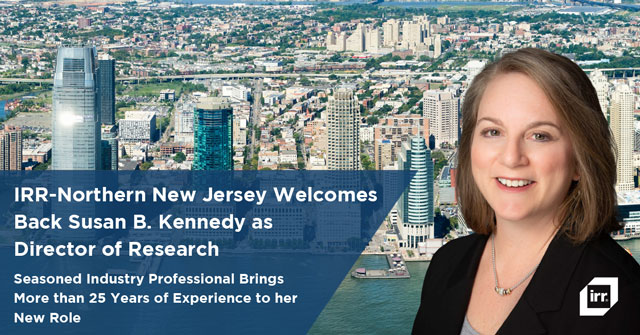 FLORHAM PARK, NJ — (Feb. 17, 2022) —Integra Realty Resources (IRR), one of North America's largest independent commercial real estate valuation and consulting firms, today announced it is welcoming back seasoned commercial real estate professional Susan B. Kennedy as Director of Research at the company's Northern New Jersey office.
Kennedy, who brings more than 25 years of real estate industry experience, will be responsible for leading the office's market study group, which provides extensive research, analysis and reporting to property owners and developers on market trends, opportunities, marketability, and feasibility of development projects and land.
"We are thrilled to welcome back Susan," said Paul T. Beisser, CRE, MAI, SCGREA, Senior Managing Director of IRR's Northern New Jersey office. "She is highly regarded by her clients and colleagues alike and brings a proven track record working on assignments throughout New Jersey. The addition of Susan further strengthens our research platform and ensures we will continue to provide a premier level of client service as we continue to expand our book of business across the region."
Kennedy brings a wide range of experience across the commercial real estate sector, including mortgage, title and appraisal expertise. Prior to re-joining IRR, Kennedy spent seven years working for National Valuation Consultants, Inc., a nationally based valuation firm in their NY/NJ Metro office. During her seven-year tenure, she held escalating leadership positions including most recently Quality Control Manager, where she was responsible for ensuring the accuracy of the company's market research and data platform. Previously, Kennedy served as an analyst and commercial real estate appraiser at IRR's Northern New Jersey office. Prior to her career as an appraiser, Kennedy spent over a decade working for several notable mortgage lending institutions and title service companies where Susan held various leadership roles such as Operations Manager, Vice President of Closing Department and Warehouse Coordinator, Funding Manager, Senior Title Officer, among others. Kennedy is a notary public and holds a Bachelor of Arts from the University of Maryland.
IRR—Northern New Jersey office valuation and advisory experts specialize in valuation, consulting, feasibility and market study services for commercial real estate assets. The office also has a specific expertise in Affordable Housing, property tax matters, eminent domain, Redevelopment planning assistance and Government subsidy analysis. For more information, please visit www.irr.com/northernnj