IRR Proudly Sponsors TREC'S FightNight XXXI in Dallas, TX May 3, 2019
FOR IMMEDIATE RELEASE
Integra Realty Resources Proudly Sponsors TREC'S FightNight XXXI in Dallas, TX
Co-Founded by IRR's National Litigation Practice Group Leader Steve Crosson, The Real Estate Council's Annual Event is One of North Texas' Largest Philanthropic Events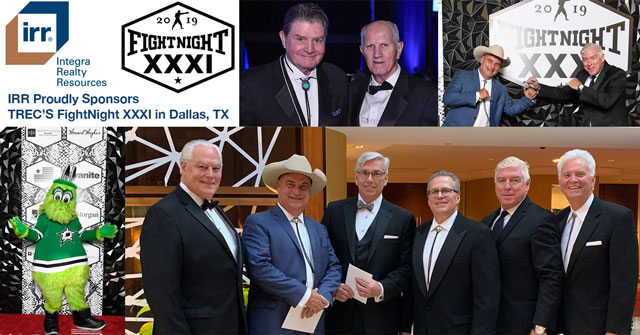 DENVER, CO— (May 2, 2019) —Integra Realty Resources (IRR), one of North America's largest independent commercial real estate valuation and consulting firms, is a proud sponsor of The Real Estate Council's FightNight XXXI in Dallas, Texas.
More than 1,400 guests, dressed in black tie and cowboy boots, attended this year's signature event held at Hilton Anatole, complete with cigars, celebrities, casino gaming, high-end cars and boxing. FightNight XXXI raised $1.4 million to benefit The Real Estate Council Foundation, TREC's philanthropic arm that works to strengthen North Texas communities in need through good works.
Stephen T. Crosson, MAI, SRA, FRICS, National Practice Leader of the Integra Litigation Practice Group, is one of the event's original founders and recurrent Boxing Chairman of FightNight. He attended this year's event, saying, "FightNight continues to exceed our expectations. It's just such a unique real estate event that everyone who attends really enjoys, so they come back the next year, and so on. It's been a lot of fun and is a great way to help our community."
FightNight, now in its 31st year, has grown into one of the largest annual philanthropic events in North Texas. The event is produced by The Real Estate Council, comprised of 2,100 commercial real estate professionals and 650 member companies who spark community transformation by lending their expertise, building connections and raising funds.
Since its inception in 1989, FightNight has raised more than $26 million to support The Real Estate Council Foundation and its good works. For example, TREC members are currently helping renovate a 12,000-square-foot retail center and restore the historic Forest Theater's facade.
About Integra Realty Resources (IRR)
Integra Realty Resources (IRR) is the largest independent commercial real estate valuation services firm in North America, covering more than 60 markets with over 600 employees throughout the United States, and the Caribbean. The firm specializes in real estate appraisals, feasibility studies, market studies, expert testimony, and related property consulting services. Many of the nation's largest and most prestigious financial institutions, developers, corporations, law firms, and government agencies are among IRR's clients. In 2018, IRR completed more than 27,000 assignments across 60 metro markets totaling more than $300 billion in asset value. For more information, visit www.IRR.com