IRR's Winning Streak Continues in Ten-X's Battle of the Bids: Jerardo Arciniega, MAI Takes Home His 2nd $10,000 Prize Jul 20, 2022
IRR's Winning Streak Continues in Ten-X's Battle of the Bids:
Jerardo Arciniega, MAI Takes Home His 2nd $10,000 Prize
Appraisal Industry Professional Accurately Predicts Commercial Real Estate Property
SaleValues as Part of the Contest to Win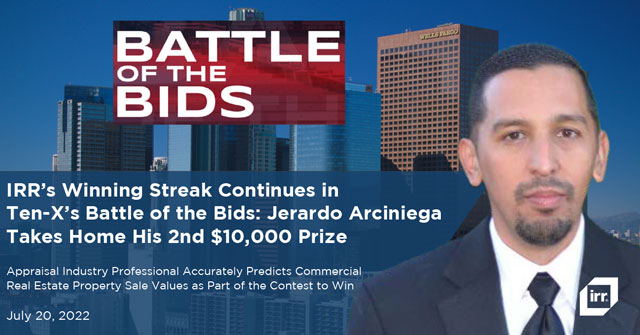 LOS ANGELES — (July 20, 2022) —Integra Realty Resources (IRR), one of North America's largest independent commercial real estate valuation and consulting firms, today announced, Jerardo Arciniega, MAI, an Associate Director in the company's Los Angeles office, has won a cash prize of $10,000 in Ten-X's most recent Battle of the Bids commercial real estate valuation contest. This marks the second time Arciniega wins $10,000 in the Battle of the Bids, and the third win for IRR.
"This is the third win for our Los Angeles office," commented Arciniega. "We are all tapping into our decades of appraisal experience in this friendly competition and are having a lot of fun not only competing, but winning."
Arciniega's second win comes on the heels of his first $10,000 win last month, along with IRR's Nicole B. Galvez, a Senior Analyst in the company's Los Angeles office, big first place win in Round 4 of Ten-X's Battle of the Bids commercial real estate valuation contest, which came with a $100,000 cash prize.
Arciniega brings 17 years of experience appraising real property. He is responsible for real estate analysis, data collection and studies including interviewing buyers, sellers, brokers and tenants with regard to the details of transactions and market conditions, as well as report writing for narrative appraisal assignments concerning all major real estate categories. Property types which he has appraised include retail, office, and industrial buildings, apartments, single-family residences, mobile home parks, gas stations, nurseries, renewable energy sites, self-storage facilities, and special purpose properties. He has worked on many high-profile right-of-way projects, including Los Angeles Metro Purple Line expansion, the State Route-91 Corridor Improvement Project, among many others. His work also encompasses litigation support related to potential value diminution, eminent domain, and other issues. He has successfully appraised properties for various client groups such as public agencies (Los Angeles Department of Water and Power, Metropolitan Water District, Metropolitan Transit Authority, cities of Riverside, Culver City, and South Gate), financial institutions, law firms, and individual property owners. In addition, he has represented property owners in assessment appeal cases.
The eight-round Battle of the Bids game launched April 11 as a way for commercial real estate professionals to engage with the Ten-X platform in a unique way while having the opportunity to earn cash prizes. Battle of the Bids allows commercial real estate professionals to bet on Ten-X's real estate auctions. Participants select up to ten properties in each round and bet what they think each will sell for — the closer each bet is to the winning bid amount at the end of the auction, the more points they earn. In each of eight rounds, over 500 winners will claim prizes ranging from $100 to $100,000. The Battle of the Bids player that accumulates the most points throughout all rounds will become the grand prize winner and win $1 million, plus an additional $100,000 to donate to a charity of their choice. For more information, visit www.battleofthebids.com/properties.
IRR's Los Angeles office offers valuation and advisory experts that provide valuation, consulting, feasibility and market study services for commercial real estate assets. The office specializes in litigation services and handles quite a bit of eminent domain and right-of-way appraisal assignments. For more information, please visit www.irr.com/losangeles