IRR-San Francisco Welcomes Back Two Seasoned Professionals Jun 15, 2020
FOR IMMEDIATE RELEASE
Integra Welcomes Back Two Seasoned Professionals;
Liani Moore and Krista Castro Rejoin IRR's San Francisco Office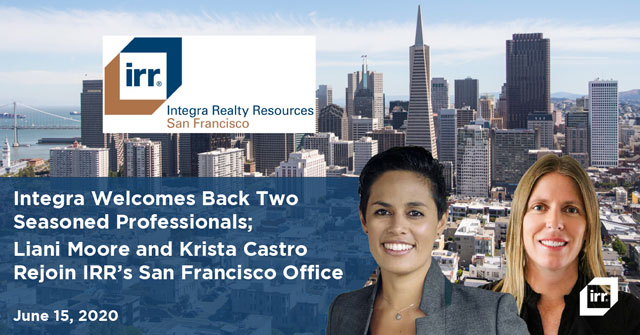 SAN FRANCISCO — (June 15, 2020) —Integra Realty Resources (IRR), one of North America's largest independent commercial real estate valuation and consulting firms, today announced the return of two seasoned appraisers to its expanding San Francisco Office.
Liani Moore, MAI, who brings more than a decade of experience, rejoins as Senior Director of IRR-San Francisco. In her new role, Moore will be responsible for creating new business opportunities and overseeing the firm's team of professionals to ensure delivery of the highest quality valuation and consulting services.
Krista Castro, who brings more than two decades of commercial real estate appraisal experience, rejoins as a Senior Analyst. In her new role, Castro will provide valuation and consulting services to an array of clientele, including commercial banks, private equity lenders, municipalities, public/governmental entities, and private investors.
"We couldn't be more pleased to welcome back both Liani and Krista, who will prove to be valuable assets to our team and clients alike," said Jeffrey W. Fillmore, MAI, Senior Managing Director of IRR-San Francisco office. "Liani brings a unique skillset thanks to her management and appraisal background, not to mention a reputable book of business she's built over the years. And not only is Krista a great person who I have worked with for more than a decade, but she is also one of the most sought-after appraisers due to her expertise in Low-Income Housing Tax Credit work."
Moore added, "IRR has a unique, entrepreneurial culture and state‐of‐the‐art technology that allows employees to grow their business while better serving their clients with best‐in‐class valuation and consulting services. I am thrilled to be back."
Moore began her career with IRR's Sacramento office in 2006, and subsequently served as a Senior Analyst in IRR's San Francisco and Metro Los Angeles offices, which merged and were acquired by BBG in 2017. During her tenure with BBG, Moore served as Director of Operations in San Francisco, and then Managing Director in Los Angeles. Moore's professional background includes more than 12 years of consultation and valuation practice involving a variety of commercial property types, including multifamily, residential (subdivision and condominium development), retail, office, industrial, self-storage, and special purpose properties. She specializes in mixed-use apartment, condominium, and subdivision development. She has also developed a specialty practice in the emerging industrial and retail cannabis-related real estate markets. Moore has geographic expertise in the nine-county San Francisco Bay Area, the Greater Los Angeles Metropolitan Area, the Inland Empire, the Greater Sacramento Metropolitan Area, the Central Valley, and Hawaii. Moore is an MAI- designated member of the Appraisal Institute, a licensed appraiser in California and Hawaii, and holds a Bachelor of Arts from the University of California, Davis.
Castro began her real estate appraisal career in 1998 with IRR's San Francisco office, where she spent more than 15 years. Prior to rejoining IRR, Castro served as Director with BBG, and previously, as an associate with the Fillmore Group, which was acquired by IRR earlier this year. She brings experience across a wide variety of commercial real estate properties including multifamily, retail, office, industrial, mixed-use and land development. She brings specialty expertise in the affordable housing sector, including Low-Income Housing Tax Credit (LIHTC), Department of Housing and Urban Development (HUD), USDA, and local agency rent restriction studies throughout the state of California. Castro is a licensed appraiser in California, Nevada, Oregon and Washington. She holds a Bachelor of Science in Managerial Economics from UC Davis.
For more information about IRR's San Francisco team, visit www.irr.com/sanfrancisco