IRR Welcomes Back Morgan Hascall to its Expanding San Francisco Office Apr 6, 2021
Integra Realty Resources Welcomes Back Morgan Hascall to its Expanding San Francisco Office
Seasoned Commercial Real Estate Analyst Rejoins from BBG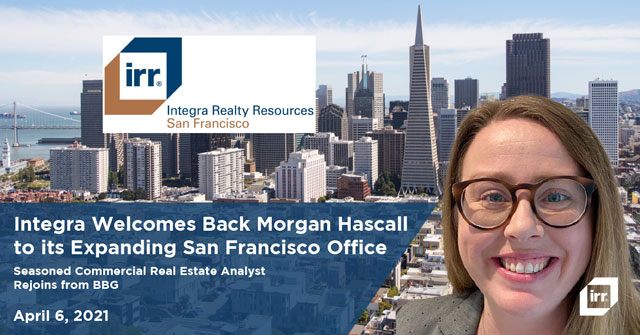 SAN FRANCISCO — (April 6, 2021) — Integra Realty Resources (IRR), one of North America's largest independent commercial real estate valuation and consulting firms, today announced it is welcoming back seasoned commercial real estate analyst Morgan Hascall, MAI to its growing San Francisco office. Hascall, who brings more than a decade of experience, rejoins Integra from BBG where she served as Senior Analyst.
"We are thrilled to welcome back Morgan to our expanding San Francisco Office," said Jeffrey Fillmore, MAI, Senior Managing Director of Integra Realty Resources' San Francisco office. "She is highly regarded by her clients and colleagues alike and brings a proven track record across the Greater Bay Area. Her addition further strengthens our regional platform and will allow us to continue to provide a premier level of service to our growing client list."
Hascall began her career in 2010, working for Seevers Jordan Ziegenmeyer a commercial real estate appraisal and consulting firm located in Rocklin, California. In 2011, Hascall joined IRR's San Francisco office, which was later acquired by BBG. Hascall's experience includes a wide variety of commercial appraisal assignments in the San Francisco Bay Area, Sacramento region, and California's Central Valley. Her experience includes research, valuation, and consulting analysis on a wide variety of property types including multifamily, residential, retail, office, industrial, and special-purpose properties. She specializes in mixed-use apartment, condominium, and subdivision development. Hascall has also developed experience in the emerging industrial and retail cannabis-related real estate markets. Clients served include financial institutions, law and accounting firms, private and public agencies, pension and investment firms, including institutional investors, and the general public. She earned her bachelor's degree from the University of California at Davis and is a licensed certified general real estate appraiser in California and holds the Appraisal Institute's MAI designation.
Integra Realty Resources' San Francisco office provides comprehensive appraisal and consulting services across all commercial real estate property types including office, industrial, retail, multifamily, hospitality and special-use properties, as well as vacant land. IRR's clients rely on the company's services for lending purposes, financial reporting, litigation support, eminent domain acquisitions, insurance, and market feasibility studies, among other areas of focus. For more information about IRR's San Francisco office, please visit www.irr.com/SanFrancisco.