IRR Welcomes Joseph R. Calvaneso, MAI as Senior Director of its Growing Detroit Office Feb 23, 2022
Integra Realty Resources' Welcomes Joseph R. Calvaneso, MAI as Senior Director of its Growing Detroit Office
Seasoned Industry Professional Brings More than a Decade of Experience to his New Role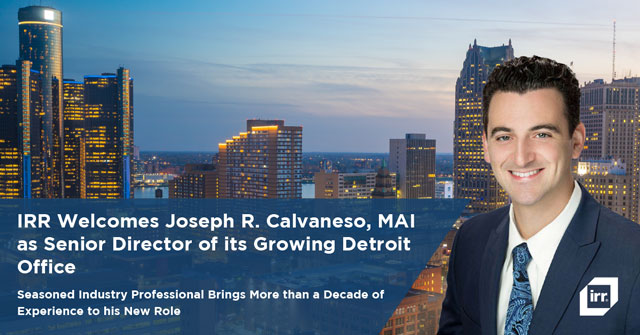 DETROIT, MI — (Feb. 23, 2022) —Integra Realty Resources (IRR), one of North America's largest independent commercial real estate valuation and consulting firms, today announced it is welcoming seasoned commercial real estate professional Joseph R. Calvaneso, MAI as Senior Director at the company's expanding Detroit office.
Calvaneso, who brings more than a decade of real estate valuation experience, joins from Newmark's Michigan office, where he served as First Vice President and Multifamily Team lead for the commercial real estate valuation practice group. In his new role, the Bloomfield/Birmingham native will be responsible for multifamily valuation throughout the state of Michigan.
"We are delighted to welcome Joe to our growing team," said Donald L. Selvidge, MAI, Senior Managing Director of Integra Realty Resources' Detroit office. "He comes highly recommended by his colleagues and clients alike and brings in-depth expertise in the multifamily sector that will serve our clients well."
Calvaneso has appraised, consulted, and analyzed real property assets across all product types. He brings specialized expertise in the multifamily sector, having completed valuation assignments for existing and proposed market-rate housing, subsidized and LIHTC apartments, manufactured housing, student housing, and seniors housing. Recent notable assignments include a multi-billion-dollar national manufactured housing community portfolio for a well-known national player; an approximately $100-million valuation in Ann Arbor; and a proposed high-rise landmark redevelopment in the city of Detroit. Calvaneso has completed assignments in 13 states and Europe, providing guidance and opinions of value under a variety of scenarios including market, insurable, disposition, liquidation, investment, and go-dark values for acquisitions, dispositions, speculative development, build-to-suit scenarios, distressed assets, fundamental market analyses, and completion/stabilization scenarios. He is a Certified General Appraiser in Michigan and a Member of the Appraisal Institute (MAI). He earned a B.S. in Finance from Oakland University and graduated with honors.
"It is an honor to be accepted into such an elite and veteran group of valuation professionals at Integra, with an already sterling reputation in the appraisal industry;" said Calvaneso. "I'm looking forward to further honing my practice under the guidance and association of these industry leaders."
IRR's Detroit office valuation and advisory experts provide valuation, consulting, feasibility and market study services for commercial real estate assets. The office specializes in investment grade real estate and litigation valuations. The office excels in in analyzing unique situations including, distressed properties, special purpose properties, subdivision analyses, and court-related assignments wherein Principals and Senior Analysts are routinely called as expert witnesses. For more information, please visit www.irr.com/Detroit