Jason Jackson Promoted to SMD of IRR-Fort Worth Feb 8, 2023
Jason Jackson Promoted to Senior Managing Director of IRR-Fort Worth
Acquires Majority Equity Control of Integra Realty Resources' Fort Worth Office
Seasoned Commercial Real Estate Professional to Serve as Market Leader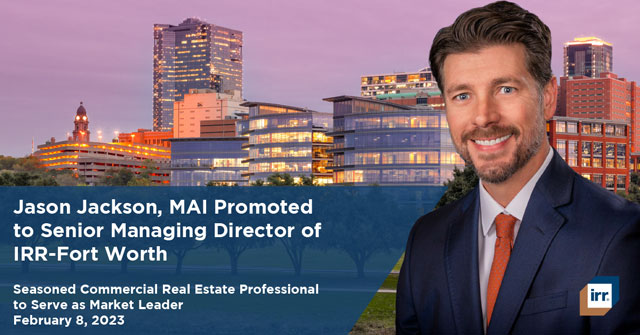 FORT WORTH— (February 8, 2023) — Integra Realty Resources (IRR), one of North America's largest independent commercial real estate valuation and consulting firms, today announcedthe appointment of Jason Jackson, MAI as the Senior Managing Director of its Fort Worth office. Jackson will be responsible for overseeing local operations, expanding new business opportunities and serving as the Fort Worth regional market leader for IRR. Jackson acquired the majority equity interest in the Fort Worth office this past month as part of an overall succession strategy.
Jackson, who brings more than 20 years of commercial real estate industry experience, will serve as Fort Worth regional market leader for Integra. He will work closely with Alan Pursley, MAI, SRA, SGA, now Executive Director of the Fort Worth office, to ensure delivery of world-class valuation and counseling services to IRR clients.
Alan Pursley, former managing director of IRR-FW, commented - "Over the past five years as part of the IRR platform, our team grew exponentially due to the young, bright, and ambitious professionals who embraced the IRR technology and continue to amaze me with their market knowledge, analytical skills, report writing ability, and work ethic. IRR's state-of-the-art technology, databases, and systems, combined with our talented appraisal staff, enabled IRR-FW to become the fastest growing IRR offices in the company.
Pursley continued: "It has been a privilege to work alongside Jason Jackson, MAI for over 20 years. He consistently demonstrates professionalism, hard work, integrity, and leadership, making him a valuable colleague and friend. Jason has now taken on a new role as the Managing Partner of IRR-FW and will lead the team to new heights while assuming the top operational role in Ft. Worth. I will be stepping back from day-to-day management and will continue to provide professional appraisal and consultation services, and expert testimony in my new role as Executive Director."
Jackson added, "I'm excited about Fort Worth's future and I am excited about Integra's future. Our office has grown exponentially since joining IRR in 2018 and I look forward to further leveraging Integra's platform in our efforts to meet our client's valuation needs."
Jason Jackson, MAI has 20+ years of experience in Commercial Real Estate appraisal. He is a Texas Certified General Appraiser and has prepared appraisals in 25+ states. Mr. Jackson has experience in appraising all major categories of real estate, including residential, multi-family, commercial, industrial, residential and commercial subdivision developments, special purpose, golf courses, country clubs, golf course planned unit developments, and vacant land for banks, lending institutions, mortgage companies, various government agencies, tax representation agents, developers, brokers, law firms and individual clients. Jason has also appraised in excess of 400 parcels for condemnation purposes, many of which included complex assignments with remainder damages and provided expert witness testimony in court proceedings. His areas of expertise include golf courses and single family subdivisions. Jason graduated from Baylor University with a Bachelor of Business Administration Degree in Finance with an emphasis in Real Estate and obtained his MAI designation in 2013. For more information about IRR-Fort Worth office, visit www.irr.com/FortWorth