Just-Released: 2017 Viewpoint National Industrial Report Mar 7, 2017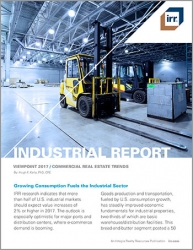 We are pleased to announce the latest in a series of stand-alone reports that dive into deeper detail than what was covered in the 2017 Viewpoint Annual Report:
2017 Viewpoint National Industrial Report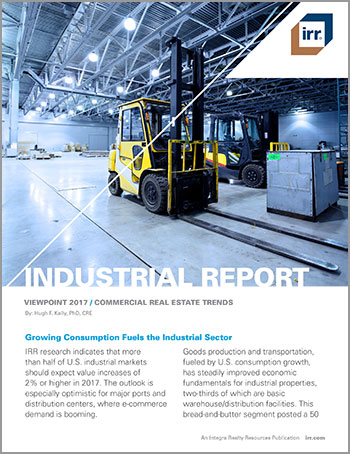 IRR's Viewpoint 2017 Industrial Report provides you commentary and metrics compiled by seasoned commercial real estate appraisers and consultants who have extensive knowledge of their markets.
The Industrial Phenomenon
Markets Doing Well...
According to Integra Realty Resources, there aren't any markets in the Hypersupply or Recessionary phases. IRR reported that 83% of all markets are in Expansion. Furthermore, warehouse and distribution centers posted a 50-basis point improvement in vacancy rate, to 7.6% nationwide.
As Transaction Volume Slows
Industrial investment enjoyed a banner year in 2015, with transactions slowing in 2016. The reason? A pullback in the megadeals. Single-asset deals increased, while investment in R&D/Tech/Telecom buildings jumped by 74% year over year.
Little Bifurcation Among Industrial
Most of the industrial sector will continue doing well in 2017.