Just Released: IRR's Q1 2017 Interest Rate Survey Results May 15, 2017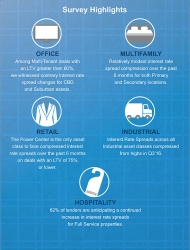 Integra Realty Resources (IRR) is pleased to present the Results of the IRR First Quarter 2017 Integra Realty Resource Interest Rate Survey. This survey was designed to provide an accurate gauge of current market conditions by investigating the determinants of interest rate spreads across the U.S. Commercial Real Estate (CRE) industry.
You can purchase the summary of the results of this survey for $15.00 here.
One hundred and sixty-four (164) CRE lenders and underwriters participated in this survey, which assesses lending practices based on CRE property type, loan size, geographic location, and how characteristics of the lender affected the financing of CRE assets nationally.