Kendra Stevens Barry Promoted to Lead IRR-Tampa Nov 17, 2020
Kendra Stevens Barry Promoted to Lead
Integra Realty Resources' Tampa, FL Office
Seasoned Commercial Real Estate Industry Professional Named
Senior Managing Director; Will Serve as National CRE Firm's Regional Market Leader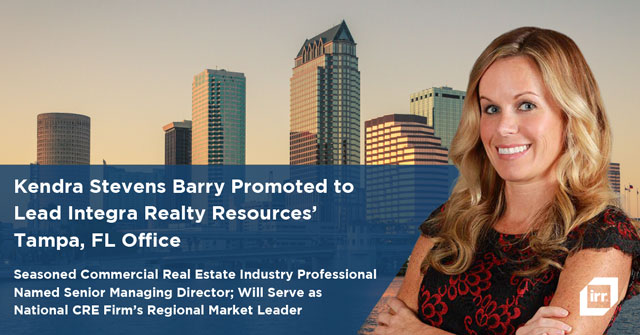 TAMPA, FL — (November 17, 2020) —Integra Realty Resources (IRR), one of North America's largest independent commercial real estate valuation and consulting firms, today announced Kendra Stevens Barry has been promoted to Senior Managing Director of IRR's Tampa office. In her new role, the Tallahassee native who brings more than 20 years of commercial real estate experience, will serve as regional market leader across Tampa Bay.
"Kendra has played a critical role in our regional growth and success over the past two decades," said Brad Johnson, Executive Director of Integra Realty Resources' Tampa Bay office. "Highly regarded by her colleagues, she's a proven leader both in and out of the office. Her diverse experience and strong understanding of real estate fundamentals combined with her commitment to our community through her philanthropic efforts will help us further our industry-leading reputation and enhance our overall client relationships."
Barry's commercial real estate career spans appraisal and consulting experience, along with property and portfolio management. She has completed valuation assignments across a wide range of existing and proposed commercial real estate properties across Florida. She specializes in medical office and special-use properties, including churches, funeral homes, and educational properties. She is also one of only a few select appraisers in Florida who specialize in valuing manufactured home (MH) and recreational vehicle (RV) communities. She has appraised more than 75 educational facilities across the southeastern United States, including charter schools, colleges and universities, and daycare centers; as well as 75 MH/RV communities, including Class-A motor coach resorts and 55+ (senior) communities. Her prestigious client list includes commercial banks, credit unions and other financial institutions, as well as Tenet Healthcare and national charter school developers, including Charter School Properties, Inc., Red Apple Development LLC, Ryan Companies, Charter Schools, USA and MG3 Developer Group.
A state-certified general real estate appraiser in both Florida and Alabama, as well as licensed real estate broker, Barry holds a Bachelor of Science in Social Sciences and Business Management from Florida State University.
Equally dedicated to her local community, Barry was recently recognized for her philanthropic efforts and named one of South Tampa Magazine's 'Top 10 Under 40.' She is immediate past Vice President and current Advisory Board Member of Onbikes, a non-profit charity organization that she's been involved with over the past seven years that provides bikes to foster and at-risk children in the Tampa Bay area.
The Integra Realty Resources – Tampa office has provided valuation and consulting services across most property types since 1984, with an emphasis on multifamily, seniors housing, healthcare and other investment-grade real estate. Services include consulting, evaluation, valuation, feasibility and market studies for commercial, industrial, multifamily, student and seniors housing, mixed-use and planned unit development properties. For more information, please visit www.irr.com/Tampa