Kent P. Brustlin, MAI Returns to IRR-Philadelphia as Managing Director Aug 31, 2022
Seasoned CRE Appraiser Kent P. Brustlin, MAI Returns to
Integra Realty Resources' Philadelphia Office as Managing Director
Brustlin Brings More Than Three Decades of Experience to His New Role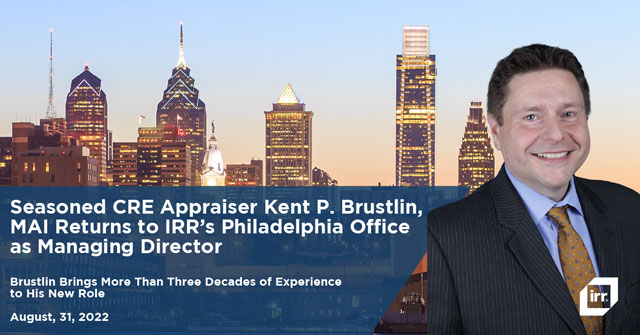 PHILADELPHIA— (August 31, 2022) — Integra Realty Resources (IRR), one of North America's largest independent commercial real estate valuation and consulting firms, today announced Kent P. Brustlin, MAI, has joined its Philadelphia office as Managing Director.
Brustlin joins from the Lehigh Valley office of Newmark's Valuation & Advisory group where he served as Senior Vice President. The highly regarded valuation expert brings 30 years of experience providing valuation and consulting services across the Lehigh Valley and Northeastern and Central Pennsylvania.
"Brustlin is one of the foremost valuation experts in the Lehigh Valley and brings a proven track record that spans three decades," said Raja "Raj" P. Waran, MAI, CRE, Senior Managing Director of IRR's Philadelphia Office. "He will play an integral role in helping our growing office meet increased demand for our expert services across the region."
Brustlin's expertise includes extensive experience across virtually all commercial real estate property types including office, retail, industrial, multifamily, and land, as well as specialty property types including student housing, healthcare, recreational, churches and schools. Brustlin's comprehensive range of consulting services include highest and best use analysis, feasibility studies, purchase and disposition analysis, tax analysis, estate portfolios, as well as litigation support and expert witness testimony. Prior to joining Newmark, Brustlin worked at Integra's Philadelphia office for five years until the office was acquired. Previous experience includes serving as a Senior Analyst at Dietrick Group, LCC a Lehigh Valley, PA based full-service real estate advisory company specializing in sales and leasing. Brustlin holds a Bachelor of Arts in Economics from Muhlenberg College.
Integra's Philadelphia office provides comprehensive appraisal and consulting services across all commercial real estate asset classes including office, industrial, retail, multifamily, hospitality and special use properties, as well as vacant land. IRR's clients utilize the company's services for lending purposes, financial reporting, estate planning, litigation support, eminent domain acquisitions, insurance, and market feasibility studies, among other areas of focus. For more information about IRR-Philadelphia office, visit www.irr.com/Philadelphia