Marshall A. Burke Joins the IRR-Washington, DC Office as Managing Director Jan 20, 2020
FOR IMMEDIATE RELEASE
Marshall A. Burke MAI, CCIM Joins Integra Realty Resources'
Washington, DC Office as Managing Director
Seasoned Commercial Real Estate Expert with two Decades of Experience
Will Lead and Grow Integra Realty's Regional Market Presence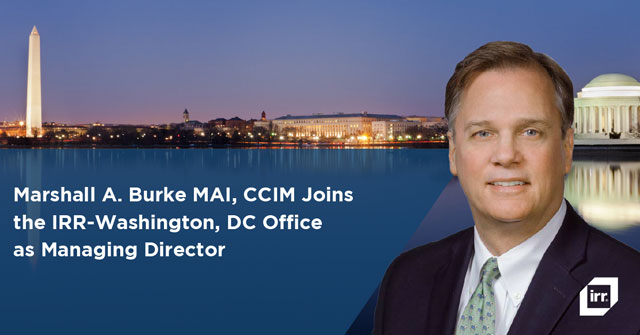 WASHINGTON — (January 20, 2019) —Integra Realty Resources (IRR), one of North America's largest independent commercial real estate valuation and consulting firms, today announced Marshall A. Burke, MAI, CCIM has joined as Managing Director of its Washington, D.C. office.
Burke brings more than 20 years of commercial real estate industry experience serving the Washington, DC and Richmond, VA markets to IRR, having spent the bulk of his career with Colliers International and Cushman & Wakefield.
"We couldn't be happier to have Marshall in our DC office," says Anthony M. Graziano, MAI, CRE, Chairman of IRR. "Burke is a highly regarded professional who has been a trusted commercial real estate advisor in Washington, DC and Richmond, Virginia for more than two decades. He understands the dynamics of this vibrant regional market and will be an invaluable asset as we look to expand our presence here."
Burke added, "I'm excited to become Managing Director of Integra Realty Resources' DC office and have the opportunity to lead our regional expansion, while continuing to serve our valuable clients. I was attracted to Integra Realty Resources' advanced technology platform and national network of valuation experts, as well as the company's emphasis on partnership and collaboration."
Prior to joining Integra, Burke served as Senior Director of Capital Markets at Harrison & Bates, a commercial real estate services firm based in Richmond, Virginia. As previously noted, the bulk of his 20-year career was spent in various valuation and advisory and capital markets positions with Colliers International and Cushman Wakefield. Burke brings decades of experience in valuation and advisory experience throughout Virginia, Maryland and Washington, having completed valuation and advisory assignments for a broad array of clients, including: private and institutional investors (foreign and domestic); life insurance companies; CMBS lenders; banks; law firms; accounting firms; corporate owner-occupiers; and government agencies. In addition to his valuation and advisory experience, Burke has participated in capital markets brokerage transactions with a cumulative transaction value in excess of $1 billion, primarily in the Washington, DC market.
Burke is a Designated Member of the Appraisal Institute (MAI) and a Designated Member of the CCIM Institute (CCIM). He holds certified general appraiser licenses in Virginia, Maryland and Washington, DC. He earned his M.B.A. with a concentration in Real Estate and Urban Land Development from Virginia Commonwealth University.
For more information, please visit www.irr.com/washingtondc