Six Senior Appraisers with JLL Return to the IRR-Dallas Office Aug 6, 2018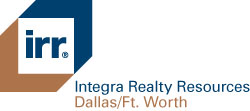 FOR IMMEDIATE RELEASE
Six Senior Appraisers with JLL Return to
Integra Realty Resources Dallas, TX Office

DALLAS/FORT WORTH, TX — (August 6, 2018) — Integra Realty Resources (IRR), one of North America's largest independent commercial real estate valuation, research and consulting firms, today announced six JLL employees have returned to the IRR-Dallas office.
"Talent continues to be the biggest challenge facing our industry today," said Anthony M. Graziano, MAI, CRE, Chairman of IRR. "We've been strategically rebuilding Integra's footprint to its original size, prior to the wave of local office acquisitions—and are pleased to share we're almost there. And while we've been aggressive in our pursuit to align with the right, long-term partners, we continue to exhibit patience and diligence, which has served us well over the years. Quality professionals with a shared vision are our lifeblood, which is why we could not be more thrilled to welcome back Dennis, Mike, Randy, Lauri, Ryan and Andy."
Jimmy H. Jackson, MAI, Senior Managing Director of IRR-Dallas, added, "The addition of these industry leaders not only solidifies our market leading position in the Dallas-Fort Worth region, but also allows us to meet growing demand for our expert services."
"I'm excited to rejoin the Integra team and look forward to continuing the momentum they have been creating in the marketplace," said Pertle. "IRR's collaborative, creative network and technology and research resources are truly second to none. The platform allows me to serve my clients in the manner they have grown accustomed to all these years, while providing me with the opportunity to grow and expand professionally."
This announcement aligns with Integra's aggressive growth strategy. Over the past 18 months, IRR has added more than a dozen offices nationwide, launched IRR-Hotels, a hotels specialty practice group, and expanded its IRR Healthcare & Senior Housing team.
For more information, please visit IRR-Dallas.
About Integra Realty Resources (IRR)
Integra Realty Resources (IRR) is the largest independent commercial real estate valuation services firm in North America, covering more than 60 markets with nearly 600 employees throughout the United States, and the Caribbean. The firm specializes in real estate appraisals, feasibility studies, market studies, expert testimony, and related property consulting services. Many of the nation's largest and most prestigious financial institutions, developers, corporations, law firms, and government agencies are among IRR's clients. In 2017, IRR completed more than 23,000 assignments across 60 metro markets totaling more than $257 billion in asset value. For more information, visit www.IRR.com.