Thomas P. Humbert, MAI Joins Integra's Syracuse Office as Managing Director Aug 26, 2021
Thomas P. Humbert, MAI Joins Integra's Syracuse Office as Managing Director
Seasoned Commercial Real Estate Industry Professional Joins from Cushman & Wakefield;
Brings More than a Decade of Local Market Experience to his New Role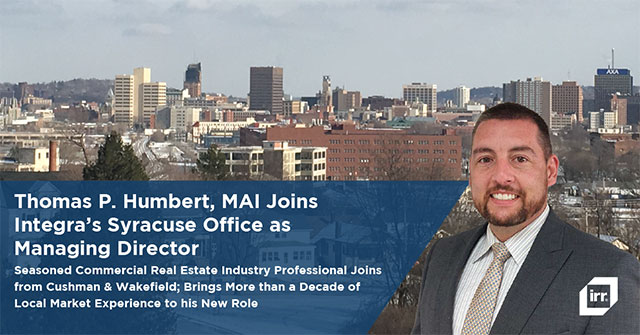 SYRACUSE, NY— (August 26, 2021) — Integra Realty Resources (IRR), one of North America's largest independent commercial real estate valuation and consulting firms, today announced Thomas P. Humbert, MAI, has joined its Syracuse Office as Managing Director.
An Upstate New York native, Humbert brings over a decade of experience in commercial real estate valuation and consulting across New York State, including his most recent role as Director at Cushman & Wakefield.
"We are pleased to welcome Tom to our Syracuse team," said William J. Kimball, MAI, Senior Managing Director of IRR's Syracuse office. "This strategic addition allows us to better serve our growing client base and is consistent with our commitment to attracting the industry's future leaders. Tom's experience and stellar reputation working with some of the region's top commercial real estate players across New York will be an asset to our employees and clients alike."
Humbert adds, "I've known and respected Bill for years, and look forward to working with him and the entire Integra Syracuse team. There are exciting synergies with the combination of the Integra team's best-in-market, single-tenant-net-lease and hotel capabilities, and my experience primarily valuing complex multi-tenant income properties. I look forward to leveraging my experience and growing professionally under Bill's dynamic leadership."
Humbert brings valuation experience across a wide range of commercial property types, including retail, office, industrial, multifamily, mixed-use, specialty healthcare and restaurants, as well as manufactured home communities, parking facilities, special use facilities, college and university campuses, and performing arts facilities. His prestigious client list includes accounting and law firms, and lenders, private and public agencies.
Prior to joining Cushman & Wakefield and becoming an appraiser, Humbert worked with the equity investment firm J.W. Burns & Company in Syracuse, NY. While at Burns, Humbert was active in equity research, equity analysis and portfolio management, gaining valuable experience and understanding of both real and business asset valuation.
Humbert holds a master's degree from the University of New York at Oswego and a bachelor's degree from Roberts Wesleyan College. He is also a designated member of the Appraisal Institute, and currently serves on the Board of Directors of the Upstate Chapter of the Appraisal Institute.
Integra's Syracuse office provides comprehensive appraisal and consulting services across all commercial real estate asset classes including office, industrial, retail, multifamily, hospitality and special use properties, as well as vacant land. IRR's clients utilize the company's services for lending purposes, financial reporting, estate planning, litigation support, eminent domain acquisitions, insurance, and market feasibility studies, among other areas of focus. For more information about IRR-Syracuse, visit www.irr.com/Syracuse