Appraisal Industry Veteran John Gillooly Returns to the IRR-Northern NJ Office Nov 25, 2019
FOR IMMEDIATE RELEASE
Appraisal Industry Veteran John Gillooly Returns to Integra Realty Resources' Northern New Jersey Office
Gillooly has served the New Jersey Marketplace for Nearly Three Decades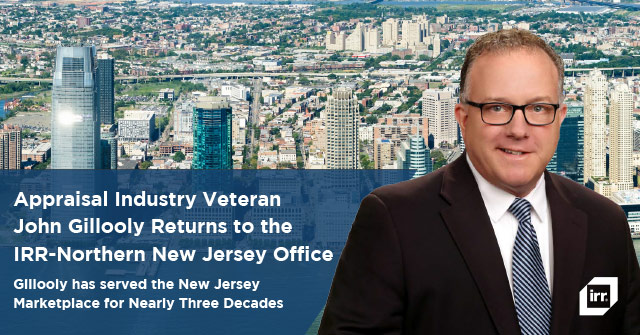 LIVINGSTON, NJ — (November 25, 2019) —Integra Realty Resources (IRR), one of North America's largest independent commercial real estate valuation and consulting firms, today announced John Gillooly, MRICS, SCGREA, CTA has rejoined the company as Director of its IRR—Northern New Jersey office.
Gillooly, a seasoned appraisal industry veteran who has served the New Jersey marketplace for nearly three decades, will work alongside IRR-Northern New Jersey Senior Managing Director Paul T. Beisser, CRE, MAI, SCGREA and Managing Director Arthur A. Linfante, CRE, MAI, SCGREA to further expand the company's consulting and litigation services. He joins colleagues Elizabeth Cregan, SCGREA and Michael Cherello, SCGREA who also recently rejoined Integra's Northern New Jersey office.
"John is a great addition to our team, and we are happy to have him," said Paul Beisser, Senior Managing Director of IRR-Northern New Jersey. "Over the past 30 years, he's built strong relationships with his clients and colleagues, earned an enviable reputation for his integrity and professionalism, and become one of the foremost Right of Way experts in the state. He will certainly be an asset as we continue to grow our book of business."
For the past two years, Gillooly served as First Vice President in Newmark Knight Frank's Valuation & Advisory Whippany, New Jersey, office. Prior to that position, Gillooly was Director of Integra's Northern New Jersey where he worked for more than two decades prior to the office being acquired by Newmark Knight Frank in 2017.
Gillooly has been actively engaged in a wide range of commercial real estate appraisal assignments across all product during his 30-year career. He is frequently tapped for his expertise in utility, telecommunications and transportation Right of Way (ROW) valuations and is a qualified expert witness in eminent domain and property tax assessment appeal litigation (Certiorari). Assignments include litigation consultation and expert witness testimony in condemnation, property tax assessment, as well as commercial mortgage financing and estate tax valuation, acquisition/disposition analysis.
Active in his professional industry and local community, Gillooly currently serves as Director of the International Right of Way Association (IRWA) Chapter 15 (New Jersey Chapter) and is an active member and former board member at the Metro New Jersey Chapter of the Appraisal Institute. Gillooly is also a member and former director of The Meadows Foundation, a nonprofit dedicated to the preservation and restoration of historic sites in New Jersey.
Gillooly earned his bachelor's in economics from Rutgers University and is a certified general real estate appraiser (SCGREA) in New Jersey, New York and Pennsylvania; a certified tax assessor (CTA) in New Jersey and a licensed real estate salesperson in New Jersey.
IRR—Northern New Jersey office's 13 valuation and advisory experts provide valuation, consulting, feasibility and market study services for commercial real estate assets. The office specializes in eminent domain and right-of-way appraisal services, as well as capital markets appraisals and litigation services. For more information, please visit www.irr.com/northernnj.