Integra Realty Resources Opens 4 New Offices Mar 8, 2018

FOR IMMEDIATE RELEASE
Integra Realty Resources Continues National Expansion, Opens Four New Offices
New Offices Include Washington, DC; Philadelphia, PA; Northern NJ; and Fort Worth, TX;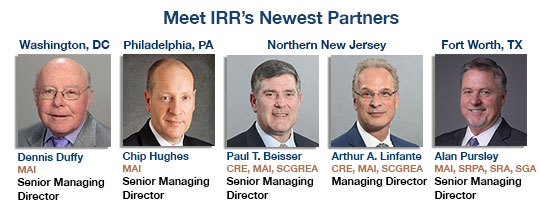 DENVER, CO — (March 8, 2018) — Continuing its aggressive growth strategy, Integra Realty Resources (IRR), North America's largest independent commercial real estate valuation, market research and consulting firm, today announced the opening of four new offices in Washington, DC; Philadelphia, PA; Northern, NJ; and Fort Worth, TX, adding 35 professionals to its growing staff of nearly 700 employees nationwide.
"Unlike other firms that parachute into markets for an assignment, Integra takes pride in delivering our commercial valuation and advisory services using our on-the-ground market experts to ensure clients have the most accurate information they need to make informed decisions," said Anthony M. Graziano, MAI, CRE, Chairman of IRR. "We continue our progress in strategically rebuilding our geographic footprint with industry-leading partners. In less than 18 months, we've added 12 new offices nationwide and launched a new Hotel specialty practice group, with more exciting announcements coming shortly."
To learn more about IRR's recent expansion, read Bisnow's news coverage here.