Michael P. Hedden Joins Integra's Philadelphia Office as Managing Director Jun 10, 2021
Nationally-Recognized CRE Valuation and Litigation Support Expert
Michael P. Hedden Joins Integra's Philadelphia Office as Managing Director
The Highly Accomplished Dispute and Appraisal Expert
Brings 40 Years of National and International Experience to his New Role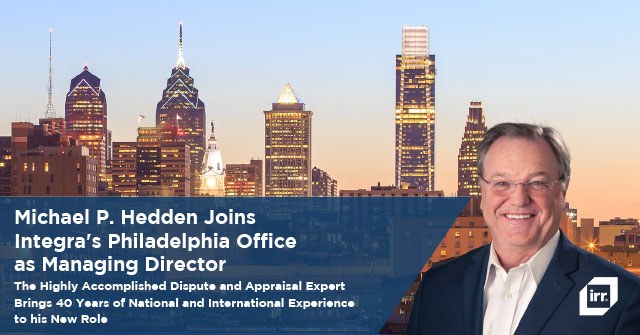 PHILADELPHIA— (June 10, 2021) — Integra Realty Resources (IRR), one of North America's largest independent commercial real estate valuation and consulting firms, today announced Michael P. Hedden, MAI, CRE, FRICS, has joined its Philadelphia office as Managing Director. Hedden will also become part of Integra's national Litigation Specialty Practice Group, representing the Philadelphia region.
Hedden joins from the New York office of global investment bank Houlihan Lokey, Inc. (NYSE:HLI) where he served as a Director in the Financial and Valuation Advisory Services practice group. The highly accomplished and nationally-recognized valuation expert brings 40 years of experience across all aspects of the profession with specialized expertise in providing litigation support and commercial real estate damages. He is recognized for his work in the courtroom as an expert witness, having testified in high-profile cases before the U.S. District Court, Superior Courts of New Jersey and California, U.S. Bankruptcy Court, and the New Jersey State Tax Court.
"We are thrilled to welcome Michael to Integra's Philadelphia office," says Anthony M. Graziano, MAI, CRE, CEO of IRR. "I've known Mike since the start of my career, and he is a consummate professional. Mike's experience and background is wide and deep, and while valuation is at his core, his ability to provide consultative solutions to client issues makes him a valuable asset to the firm."
Raja "Raj" P. Waran, MAI who was recently promoted to Senior Managing Director of Integra's Philadelphia office and was instrumental in recruiting Hedden adds, "Michael is highly respected within our industry. He has a firm grasp on our local and regional markets, plus he brings national and international expertise that will benefit our growing client base. This is a huge win for Integra and our Philadelphia team."
Hedden adds, "I'm excited to join Integra's Philadelphia office. I have enjoyed working closely with Raj over the years, so when the opportunity to join his growing team presented itself, I jumped at the opportunity. Integra is an excellent, well respected brand in the industry, and I look forward to strengthening and growing the company's presence across the Greater Philadelphia Area and beyond."
Hedden has experience in the valuation of investment and user-based specialized real estate and real estate-related enterprises. He has appraised properties in many U.S. states, as well as international locations for a variety of purposes including property tax, financial reporting, financing, acquisition/ disposition, insurance, fair rental, tax reporting, condemnation, and charitable donation. Advisory services performed by Hedden include appraisal review, market research, appraisal management, and offer/option analysis. He has developed broad experience in the valuation of properties with detrimental conditions and is a recognized expert in the valuation of property suffering from environmental contamination.
Prior to his New York post with Houlihan Lokey, Inc., Hedden served as a managing director with FTI Consulting and American Appraisal Associates, where he provided expert witness testimony and litigation support services, as well as valuations for financial reporting purposes. Prior to that, Heddon was a director for CBIZ Valuation Group, LLC and president of Realty Economics Group, a real estate consulting and appraisal firm working for various government, public, and private entities throughout the New York metropolitan area.
Hedden is a current member of the Appraisal Institute (MAI), the Counselors of Real Estate (CRE) and is a distinguished Fellow of the Royal Institute of Chartered Surveyors (FRICS). He earned a Master of City and Regional Planning (M.C.R.P.) degree from The Edward J. Bloustein School of Planning and Public Policy at Rutgers University and a Bachelor of Science degree in marketing from the University of Bridgeport. Hedden has been a licensed real estate broker in New Jersey since 1978. In addition, he holds general certified real estate appraiser licenses in New York, New Jersey, Pennsylvania and Florida.
A seasoned speaker and instructor for the Appraisal Institute, Hedden has frequently addressed industry professionals on a local, state, national and international level. His work has been used to establish resources for other experts within the industry and he is also a regular contributor to industry publications authoring dozens of expert articles over the years.
Integra's Philadelphia office provides comprehensive appraisal and consulting services across all commercial real estate asset classes including office, industrial, retail, multifamily, hospitality and special use properties, as well as vacant land. IRR's clients utilize the company's services for lending purposes, financial reporting, estate planning, litigation support, eminent domain acquisitions, insurance, and market feasibility studies, among other areas of focus. For more information about IRR-Philadelphia office, visit www.irr.com/Philadelphia