Raja P. Waran Promoted to Senior Managing Director of IRR-Philadelphia Mar 16, 2021
Raja P. Waran Promoted to Senior Managing Director Of Integra Realty Resources' Philadelphia Office
Seasoned Commercial Real Estate Professional to Serve as Regional Market Leader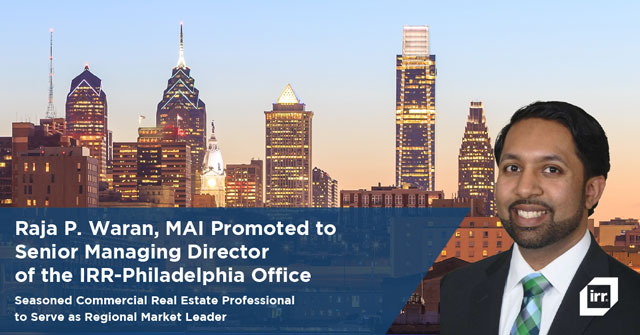 PHILADELPHIA— (March 16, 2021) — Integra Realty Resources (IRR), one of North America's largest independent commercial real estate valuation and consulting firms, today announced Raja "Raj" P. Waran, MAI has been promoted to Senior Managing Director of its Philadelphia office.
Waran, who brings more than 15 years of commercial real estate industry experience, will serve as Philadelphia regional market leader for Integra, responsible for overseeing local operations and generating new business opportunities. He will work closely with Albert "Chip" Hughes, MAI, CRE, Executive Director of the Philadelphia office, to ensure delivery of world-class valuation and counseling services to IRR clients.
"We are extremely excited to see Raja head up our Philadelphia team," says Anthony M. Graziano, MAI, CRE, CEO of IRR. "He is a highly-regarded professional who understands the unique dynamics of Philadelphia's vibrant regional marketplace. This successful succession and transition of another major Integra office is a testament to Integra's continued long-term growth and commitment to our local markets. Raj is a strong leader who I'm confident will solidify our presence in the Philadelphia marketplace for years to come."
Waran added, "I'm excited to take a leadership role in Integra's Philadelphia office and have the opportunity to continue to serve the Eastern Pennsylvania region by delivering our best-in-class services to our valued clients. Beyond the company's market-leading technology platform and national network of valuation experts, Integra's entrepreneurial and collaborative culture sets the company apart."
Raja "Raj" P. Waran, MAI actively provides valuation and advisory services for various intended uses including financial reporting, litigation support, ad valorem tax appeal, estate planning, loan underwriting, as well as for various government purposes. Waran's prior employment experiences include roles at TD Bank, FTI Consulting, American Appraisal Associates, New Jersey Housing and Mortgage Finance Agency, Real Estate Advisory and Development Services, and the Middlesex County Planning Department. Waran holds a Master of City and Regional Planning and a B.A. in Planning and Public Policy from Rutgers University, as well as an MBA in Finance from Villanova University.
Integra's Philadelphia office provides comprehensive appraisal and consulting services across all commercial real estate property types including office, industrial, retail, multifamily, hospitality and special use properties, as well as vacant land. IRR's clients rely on the company's services for lending purposes, financial reporting, litigation support, eminent domain acquisitions, insurance, and market feasibility studies, among other areas of focus. For more information about IRR-Philadelphia office, visit www.irr.com/Philadelphia