Anthony M. Graziano Appointed as IRR's CEO Aug 1, 2019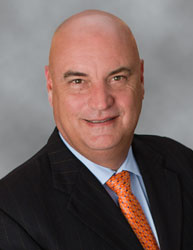 FOR IMMEDIATE RELEASE
Industry Veteran Anthony M. Graziano Named CEO of Integra Realty Resources
Graziano's 20+ Year Journey with IRR Continues
DENVER, CO — (August 1, 2019) —Integra Realty Resources (IRR), one of North America's largest independent commercial real estate valuation and consulting firms, today announced industry veteran Anthony M. Graziano, MAI, CRE has been appointed Chief Executive Officer (CEO) of the company. In this capacity, Graziano will oversee strategic growth and diversification across IRR's more than 53 valuation and advisory offices covering 60 markets throughout the United States, and the Caribbean.
For the past three years, Graziano served as Chairman of the Board of Integra, during which time he successfully executed IRR's growth strategy. During his tenure, IRR added more than 14 new local offices nationwide, launched new specialty practice groups, including Integra Litigation Practice Group and Integra-Hotels, as well as expanding Integra Healthcare & Senior Housing's practice group team.
"Tony's promotion has been a natural progression," said Michael C. Lady, MAI, SRA, ASA, CCIM, FRICS, Vice Chairman of IRR and Senior Managing Director of IRR's Indianapolis office. "He grew up in the business working alongside his father, another highly-respected industry veteran and entrepreneur. He has been a strong market leader in both the Northeast and Southeast over Integra's past twenty years, a key board member over the past decade, and he's been instrumental as our Chairman blazing the path for Integra's future. His demonstrated ability to lead and drive growth, as evidenced by his proven track record, will prove invaluable as we move Integra Realty Resources forward over the next twenty years."
Graziano has actively counseled and advised clients on the sale, leasing, valuation, management, and development of commercial real estate assets throughout the northeast and southeast United States and the Caribbean; first, as Managing Director of IRR-Coastal NJ office (1999-2011), and later as Senior Managing Director of IRR Miami/Palm Beach office (2012-2019), where he will now hand over the reins to James Andrews, MAI, CRE, ASA-BV, FRICS.
In addition to Graziano's business management and board leadership, he brings deep experience across a wide array of complex real estate issues related to estate and condemnation matters, title defects, environmental contamination/damages, air rights, partial and fractional interests, contract disputes, and mediation/arbitration disputes.
Prior to his retention as CEO, Graziano had specialized in high-stakes litigation, and is a qualified expert in the Federal Bankruptcy Court, US Federal District Court. and various State and County Circuit and Superior Courts in Florida and New Jersey. Mr. Graziano earned a Master of Science in Real Estate Development and Investment from New York University and a Bachelor of Science in Land Development and Planning, from the University of Miami's School of Architecture.
Active in both industry and community associations, Graziano is currently a member of the Miami-Dade Beacon Council's Economic Roundtable; the University of Miami MRED+U Advisory Board, Chairman of the Urban Land Institute's(ULI) Leadership Institute, and ULI advisory board member for the South Florida-Caribbean District Council, and is a lifetime member of the National Eagle Scout Association (NESA), among others.
"I am truly honored to have earned the trust of IRR's Board of Directors, its shareholders and employees in accepting this position," said Graziano. "For Integra and me, this is one of those unique situations where experience and preparation have met to form an amazing opportunity. Integra is at the forefront of technological and intellectual innovation in our field. Our future will be defined by how well we prepare our people to deliver the best problem-solving techniques in the ever-changing markets in which we serve. I have the ability to understand our clients' needs intimately, having been immersed in Integra's day-to-day business alongside clients. I also understand at a macro level what makes the best knowledge-based companies work. Inter-disciplinary knowledge transfer will be at the heart of Integra's future, training our people not only in real estate valuation disciplines and methods, but expanding into forensic accounting, litigation and testimony, environmental analysis, market study and feasibility consulting, and investment advisory roles to assist our clients in making the most-informed real estate and risk decisions. We will continue to embrace our collaborative culture that makes Integra one of the best places for valuation professionals to learn and grow. I am excited to bring my experience to bear nationally in the years ahead, and to help navigate Integra's future as we head deeper into the information age."