Renowned CRE Valuation Expert, Marty Glen, Returns to IRR-San Antonio Oct 26, 2023
Renowned Commercial Real Estate Valuation Expert, Marty Glen,
Returns to Integra Realty Resources' San Antonio, TX Office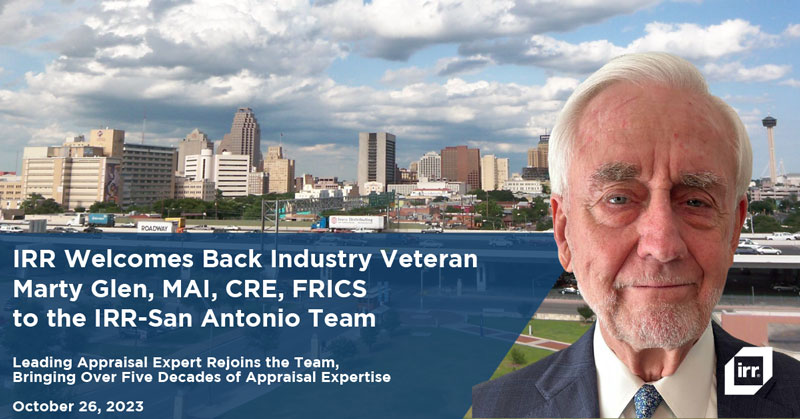 DENVER, CO — (October 26, 2023) — Integra Realty Resources (IRR), one of North America's largest independent commercial real estate valuation and consulting firms, today announced the return of esteemed industry veteran, Marty Glen, as Managing Director of its local IRR-San Antonio office. Marty will be rejoining the IRR team under the leadership of Brandon Brehm, Senior Managing Director.
Glen boasts an illustrious career spanning more than five decades in the commercial real estate appraisal industry. The seasoned professional is renowned for tackling the most complex valuation assignments from intricate valuation of in situ minerals, air rights, water rights, and partial interest valuations.
"It's truly an honor to welcome back one of Integra Realty Resources' founding members," said Darrin Liddell, Chairman of the Board at Integra Realty Resources. "His unmatched expertise in the appraisal profession has been instrumental in shaping the industry. Beyond his profound professional acumen, I eagerly anticipate the warmth and wisdom of his Scottish brogue. Welcome back, Marty!"
Brehm added, "We're thrilled to have Marty rejoin our San Antonio team. His profound knowledge and deep-rooted industry insights will undoubtedly elevate our operations, benefiting both our team and clients alike."
Glen initiated his journey with the Royal Institute of Chartered Surveyors in 1970, obtaining the esteemed MAI designation by 1978. The next decade saw him being elected a Fellow of the Royal Institution of Chartered Surveyors (FRICS) and securing the distinguished CRE designation. Over the years, Glen has catered to a diverse client base, including accountants, investment firms, law firms, lenders, and both private and public agencies. Furthermore, he's been a sought-after voice in legal circles, providing expert witness testimony for properties across various courts, from county to federal. His valuations have played pivotal roles in scenarios ranging from condemnations to financing, equity participation, and due diligence support.
IRR-San Antonio specializes in providing commercial real estate valuation and consulting, with special emphasis on investment-grade assets. The office boasts an experienced team that serves a wide range of clients, from pension fund advisors and major banks to Fortune 500 firms, developers, and government bodies. The local team has advised on notable commercial properties in the San Antonio MSA, encompassing suburban offices, retail hubs, and prominent multifamily developments. Learn more at www.irr.com/SanAntonio