Integra Realty Resources Opens Local Office in Oklahoma City, OK Jan 27, 2021
Integra Realty Resources Opens Local Office in Oklahoma City, OK
New Office Represents Integra's 59th Office Overall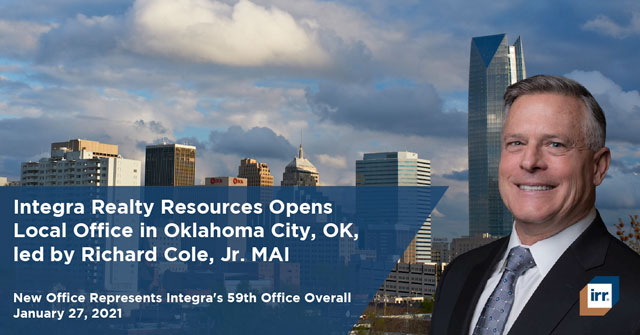 OKLAHOMA CITY, OK— (January 27, 2021) — Integra Realty Resources (IRR), one of North America's largest independent commercial real estate valuation and consulting firms, today announced it has re-established a local office in Oklahoma City, OK.
The IRR-Oklahoma City office has commenced operations at 14 NE 13th Street, Suite 108. The office specializes in providing real estate consultation and valuation of virtually all commercial property types including office, retail, industrial, hospitality, and special purpose facilities, along with multi-family properties and vacant land. IRR-Oklahoma City office will also provide counseling services such as market/feasibility studies, due diligence services, and highest and best use studies. Services offered will include valuation for lending purposes, financial reporting, litigation support, eminent domain, and property tax assessment appeals.
"Integra has been serving local and regional markets across Oklahoma for more than two decades," says Integra's Chief Executive Officer Anthony M. Graziano, MAI, CRE. "With our growing book of business across the state, the timing was right to reestablish our local market presence. We now have 59 local offices nationwide. We remain hyper focused on maintaining our market-leading position by offering our clients the best of both worlds—local, on the ground market expertise backed by one of the nation's largest, most respected independent commercial real estate firms. In addition to our highly-regarded team of seasoned professionals, Integra is known for our process-enhancing technology platform that has yet to be duplicated. I look forward to visiting with the OKC team in the near future and planning our success in such a dynamic market."
Jimmy H. Jackson, MAI, who has more than 35 years of commercial real estate experience and serves as Executive Director of IRR's Dallas and Lubbock, TX offices, will lead the new IRR-Oklahoma City office, along with Richard Cole, Jr. MAI, who brings more than 35 years of industry experience and joins as Senior Managing Director.
"I have known Richard personally for more than 40 years and have the utmost respect for him," says Jackson. "He brings real estate experience across all facets of the real estate investment cycle from acquisitions and deal structuring, investment management, through disposition and investment sunset. His diverse experience combined with his Construction Engineering Technology degree certainly sets him apart from most other real estate professionals. We are delighted to welcome him to our growing team and are confident he will prove to be an invaluable asset to our clients."
Jackson brings decades of experience as a commercial appraiser, as well as years of experience as a real estate developer and investor. Prior to joining IRR, Jackson was one of the original two founding partners of Jackson Claborn Inc. (JCI), a real estate consulting/valuation firm established in Dallas in 1992. JCI quickly grew to have one of the largest staffs of commercial and residential appraisers in the Southwest United States. Jackson graduated from Texas Tech University where Jackson has served six years on the Rawl's College of Business Advisory Board.
Cole brings broad experience across all facets of the commercial real estate industry including valuation, development, construction, brokerage, capital markets, acquisitions, due diligence, finance, real estate investments, and investment management. Prior to joining IRR, Cole served as President of 2MR Capital, LLC, a commercial real estate firm he founded in 2009 that focuses on real estate investments, investment management, as well as providing capital solutions to developers and investors. Cole began his appraisal career at Crosson Dannis, Inc. in 1990, and later, Jackson Claborn, Inc. where he gained experience in appraising virtually all major categories of commercial real estate including retail, office, industrial, multifamily and special purpose facilities. Subsequently, he joined Northmarq Capital to enhance the company's research and underwriting functions and later actively originated debt and equity financing for owners and investors. From 2003 to 2009, Richard served as Senior Vice President of Acquisitions with Rainier Capital Management. Cole earned his Bachelor of Science in Engineering Technology, Construction Specialization from Texas Tech University and is a designated member of the Appraisal Institute (MAI).
For more information about IRR's new Oklahoma City office, visit www.irr.com/OKC