Integra Realty Resources Opens New Office in Boston, MA Jan 1, 2019
FOR IMMEDIATE RELEASE
Integra Realty Resources Expands Coverage in Northeast Region;
Opens New Office in Boston, MA
IRR Now has more than 50 Local Offices Across the United States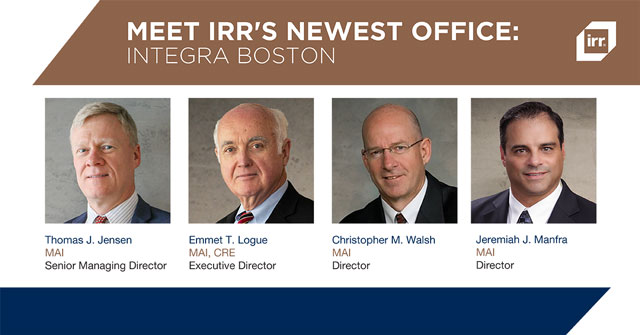 BOSTON — (Februrary 1, 2019) —Integra Realty Resources (IRR), one of North America's largest independent commercial real estate valuation and consulting firms, today announced the opening of a new local office in Boston—Integra Boston.
Thomas J. Jensen, MAI, a seasoned commercial real estate appraisal industry veteran who joined Integra Realty Resources more than two decades ago, will lead the new office as Senior Managing Director, along with Emmet T. Logue, MAI, CRE, Executive Director; Christopher M. Walsh, MAI, Director; and Jeremiah J. Manfra, MAI, Director. The new office of 8 professionals has commenced operations at 303 Congress Street, 5th Floor, Boston, MA 02210.
The opening of this new full-service appraisal office expands the company's market coverage to encompass the entire Northeast region and aligns with IRR's aggressive growth strategy. With the opening of Integra-Boston, the company has more than 50 local offices from coast to coast, as well as several specialty practice groups including its Litigation Practice Group, Healthcare & Senior Housing and Integra Hotels.
"Reestablishing a local office presence in Boston has been high on our priority list," says Anthony M. Graziano, MAI, CRE, Chairman of Integra Realty Resources. "Not only does it solidify our regional Northeast market coverage, but it further enhances our ability to service multi-market, portfolio assignments. We are fortunate to have Tom, Emmet, Chris and Jerry leading our local efforts. They bring tremendous expertise and decades of experience valuating properties throughout the New England marketplace that will prove to be a valuable asset to our clients."
Jensen brings more than three decades of appraisal experience in the Northeast Region to his current role. Prior to joining Integra Realty Resources, Jensen, was a commercial staff review appraiser at the Bank of New England. Jensen brings broad appraisal experience across all types of commercial real estate with particular expertise in the valuation of major urban and suburban developments. Jensen is a Certified General Real Estate Appraiser in Massachusetts, New Hampshire, Maine and Rhode Island. He earned his bachelor's degree in Architecture from The Catholic University of America.
Logue, a nearly 50-year industry veteran, joins IRR from Hunneman—New England's largest independently owned commercial real estate services firm. Over the past 40 years, Logue managed the appraisal advisory group at Hunneman. His experience includes residential, commercial, industrial, special purpose, and vacant land assignments throughout Massachusetts, Rhode Island, and southern New Hampshire. He has completed fee appraisal, real estate counseling, review appraisal, marketability, and highest and best use assignments for acquisition, disposition, condemnation, city planning, assessment equalization, corporate decision making, probate, estate planning, mortgage financing, and reuse purposes. Logue has qualified as an expert witness in Superior Court in Eastern and Central Massachusetts counties, as well as Massachusetts District and Probate Courts, the Massachusetts Appellate Tax Board, Federal Bankruptcy Court and Massachusetts Land Court. He has participated in arbitration panels and other alternate dispute resolution matters. He is a graduate of Boston College, with a B.S. Finance. Logue holds Certified General Real Estate Appraiser licenses in Massachusetts and New Hampshire and is an active member of the Appraisal Institute (MAI) and the Counselors of Real Estate (CRE).
Walsh brings more than 25 years of experience to his new role with IRR. He joins from Hunneman appraisal group, where he specialized in providing valuation and real estate counseling services for insurance companies and public adjusters, law firms, public agencies, corporations, and financial institutions. His extensive background includes litigation support, fire and water damage cases, divorce settlements, condemnation and land conservation. His experience spans across all commercial real estate types, as well as a wide range of special purpose properties. Walsh provided valuation support for eminent domain actions in conjunction with several of the State's largest projects, as well as several large rail trail projects. He is a graduate of Bates College with a degree in Political Science. He holds a Certified General Real Estate Appraiser License in Massachusetts.
Manfra has been a professional appraiser since 1998. Prior to joining Integra-Boston, he owned and operated his own real estate appraisal company. His appraisal experience includes apartments; neighborhood and community retail; industrial; mixed-use; residential subdivisions; places of worship; senior housing; residential; and commercial and residential land throughout Massachusetts and New Hampshire. Manfra has qualified as an expert witness in the Commonwealth of Massachusetts Middlesex Superior Court, as well as the State of New Hampshire Strafford County Superior Court. Other experiences include Adjunct Instructor of Mathematics, U.S. Navy SEAL, and high-technology support/project management. Manfra is a graduate of Norwich University where he earned a M.S. in Business Administration and a B.S. in Electrical Engineering. He is a licensed Certified General Real Estate Appraiser in Massachusetts and New Hampshire.
For more information, visit www.irr.com/Boston
About Integra Realty Resources (IRR)
Integra Realty Resources (IRR) is the largest independent commercial real estate valuation services firm in North America, covering more than 60 markets with over 600 employees throughout the United States, and the Caribbean. The firm specializes in real estate appraisals, feasibility studies, market studies, expert testimony, and related property consulting services. Many of the nation's largest and most prestigious financial institutions, developers, corporations, law firms, and government agencies are among IRR's clients. In 2018, IRR completed more than 27,000 assignments across 60 metro markets totaling more than $300 billion in asset value. For more information, visit www.IRR.com