Integra Realty Resources Reopens Denver, CO Office Sep 5, 2018
FOR IMMEDIATE RELEASE
Integra Realty Resources Reopens Denver, CO Office Under Leadership of Industry Veteran Larry B. Close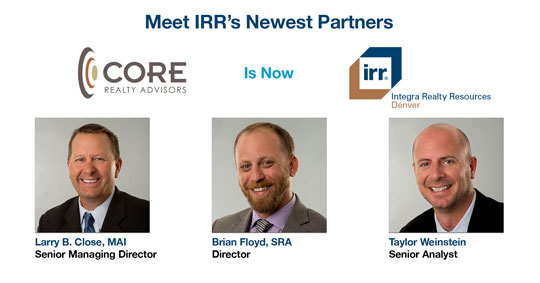 DENVER, CO — (September 5, 2018) — Just a few months following the acquisition of its local Denver, Colorado office, Integra Realty Resources (IRR), one of North America's largest independent commercial real estate valuation, research and consulting firms, today announced its reopening. IRR-Denver opens under the leadership of one of the region's most sought-after appraisers, Larry B. Close, MAI, who will serve as Senior Managing Director.
Close brings more than twenty years of expertise in valuation and counseling across all major types of real estate throughout Colorado. The industry veteran joins IRR-Denver from CORE Realty Advisors, a highly regarded commercial real estate appraisal firm he helped form and grow over the past decade. Joining Close at IRR-Denver, are CORE Realty Advisors' entire team of appraisers, analysts and support staff.
The reopening of IRR's new Denver, CO office expands the company's market coverage across Colorado, crossing over into Wyoming, Montana, Nebraska and New Mexico. This announcement aligns with Integra's aggressive growth strategy, having recently reopened and/or added more than 14 offices nationwide, launched IRR-Hotels, a hotels specialty practice group, and significantly expanded its Healthcare & Senior Housing specialty practice.
"Our market-leading position, operational prowess and entrepreneurial culture has positioned our local offices across the country as prime investment opportunities," said Anthony M. Graziano, MAI, CRE, Chairman of IRR. "However, it has also positioned us as an attractive partner for accomplished, seasoned appraisers like Larry, who are looking to grow with the backing of a national platform while maintaining their independence. Larry is a proven leader with a stellar reputation and will prove to be a tremendous asset to both our team and clients alike."
CORE has built a prestigious client roster over the years, handling some of the region's most high-profile assignments, including most recently the Pinehurst Country Club in Denver and AEG's Mission Ballroom-anchored mixed-use project North Wynkoop in Denver's vibrant RINO neighborhood. Prior to forming CORE, Close served as First Vice President, Commercial Division Manager, and Valuation Analyst for a regional full-service valuation firm based in Colorado. The industry veteran began his appraisal career as a residential real estate appraiser with a Denver-based real estate and consulting firm. He holds a bachelor's in Political Science from the University of San Diego and is a MAI designated member of the Appraisal Institute, Certified General Real Estate Appraiser and licensed Real Estate Broker in Colorado.
"Integra and its state-of-the-art technology have set the industry standard for delivering world-class appraisal services," said Close. "I am thrilled to join such a well-respected company and look forward to growing our presence here in Colorado and beyond with the support of Integra's cutting-edge resources and established national network of appraisers."
For more information, please visit IRR-Denver for more information.
About Integra Realty Resources (IRR)
Integra Realty Resources (IRR) is the largest independent commercial real estate valuation services firm in North America, covering more than 60 markets with over 600 employees throughout the United States, and the Caribbean. The firm specializes in real estate appraisals, feasibility studies, market studies, expert testimony, and related property consulting services. Many of the nation's largest and most prestigious financial institutions, developers, corporations, law firms, and government agencies are among IRR's clients. In 2017, IRR completed more than 23,000 assignments across 60 metro markets totaling more than $257 billion in asset value. For more information, visit www.IRR.com