IRR Expands Into Southern California with New Offices in West LA and Newport Beach Oct 25, 2023
Integra Realty Resources Expands Into Southern California with New Offices in West LA and Newport Beach
IRR Now has Five Local Offices Throughout California and More than 50 Offices Across the United States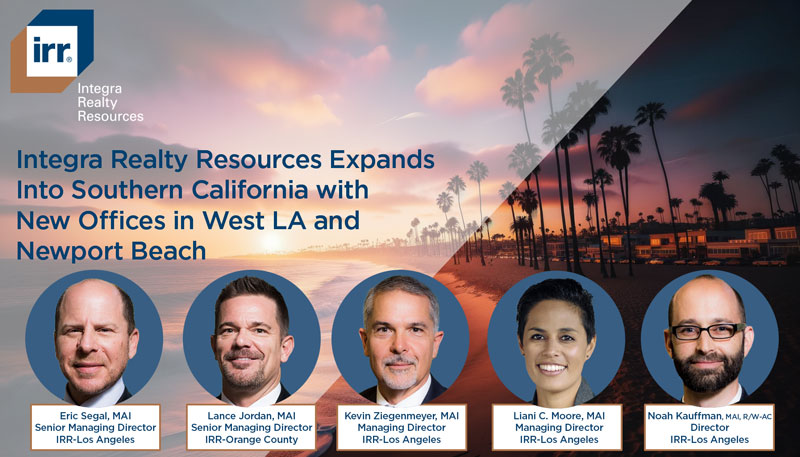 DENVER, CO — (October 25, 2023) — Integra Realty Resources (IRR), one of North America's largest independent commercial real estate valuation and consulting firms, today announced its strategic expansion into Southern California. With established offices in Sacramento, San Francisco and San Diego, the company continues to strengthen its footprint by opening doors in the greater Los Angeles market area.
These new offices, located at 12100 Wilshire Boulevard in West LA and 4695 MacArthur Court in Newport Beach, ensure comprehensive coverage spanning the Los Angeles Metro, Orange County, the Inland Empire, the San Francisco Bay Area, Sacramento, and the Central Valley. This expansion elevates IRR's regional presence, now boasting a team of more than 30 skilled appraisers operating across five strategically located offices.
IRR-Los Angeles and IRR-Orange County Managing Directors are eager to engage with both new and existing clientele throughout the region. Among the leadership team, Eric Segal, MAI, serves as the Senior Managing Director of IRR-Los Angeles, while Lance Jordan, MAI, holds the equivalent position for IRR-Orange County. Adding to this seasoned team of professionals is Liani Moore, MAI, Managing Director, who, in addition to the San Francisco Bay area, has been focused on serving the Los Angeles Metro market for the past decade.
"We take immense pride in the caliber of our teams and services," said Segal. "Clients can count on our newly opened offices in Los Angeles and Orange County to uphold the unparalleled expertise, technological innovation, quality, and timeliness synonymous with our Northern California operations. We deeply value our client relationships and look forward to better serving their broader needs across the state and beyond."
IRR's diverse team excels across a wide range of asset classes and assignment types, ranging from single tenant building financing to financial reporting for prominent institutional properties. Moreover, the expansion sees Noah Kauffman, MAI, R/W-AC spearheading the burgeoning Right of Way practice, leveraging his in-depth local knowledge as a devoted Los Angeles County resident.