IRR-Philadelphia Completes Valuation for $41.8M Office Portfolio Sale in King of Prussia, Pa. Dec 16, 2021
Integra Realty Resources' Philadelphia Office
Completes Valuation for $41.8M Office Portfolio Sale in King of Prussia, Pa.
IRR's Michael P. Hedden Leads Team in Important Appraisal Assignment
On Behalf of Lender, Acres Capital LLC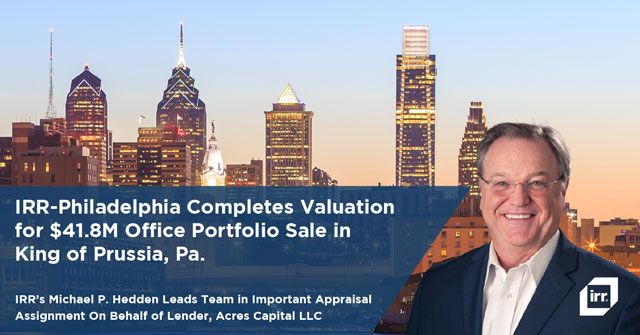 PHILADELPHIA— (December 16, 2021) — Integra Realty Resources (IRR), one of North America's largest independent commercial real estate valuation and consulting firms, today announced its Philadelphia team, led by Michael P. Hedden, MAI, CRE, FRICS, completed an appraisal assignment as part of a $41.8 million portfolio sale of two Renaissance Park office buildings located in King of Prussia, Pa.
MLP Ventures acquired the two buildings from seller Equus Capital Partners in a sale arranged by Jeff Mack of Newmark. IRR completed the valuation report as part of the sales agreement on behalf of the borrower's lender, ACRES Capital LLC.
"We are pleased to have been part of the team that assisted in MLP Venture's recent closing on two Class-A office buildings in the desirable King of Prussia," said Hedden.
The first building, a 133,880-square-foot building set on 15 acres located at 2201 Renaissance Boulevard, was purchased for $27.9 million. The second building, a 98,726-square-foot building set on nine acres located at 2100 Renaissance Boulevard, was purchased for $13.9 million.
Radnor, Pa.-based MLP Ventures plans to move its headquarters, along with related companies into the larger of the two buildings. Currently, the sole occupant of the building is Purolite, which occupies 12,500 square feet. Meanwhile, the company plans to convert 2100 Renaissance into lab space.
These properties will be added to MLP Ventures' cluster of nearby life sciences properties, King of Prussia-based Discovery Labs, that total 1.6 million square feet of space.
Integra's Philadelphia office provides comprehensive appraisal and consulting services across all commercial real estate asset classes including office, industrial, retail, multifamily, hospitality and special use properties, as well as vacant land. IRR's clients utilize the company's services for lending purposes, financial reporting, estate planning, litigation support, eminent domain acquisitions, insurance, and market feasibility studies, among other areas of focus. For more information about IRR-Philadelphia office, visit www.irr.com/Philadelphia