Just-Released: 2017 Viewpoint National Self-Storage Report Mar 14, 2017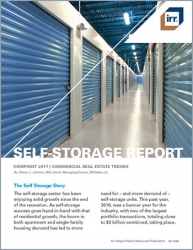 We are pleased to announce the last in a series of stand-alone reports that dive into deeper detail than what was covered in the 2017 Viewpoint Annual Report:
2017 Viewpoint National Self-Storage Report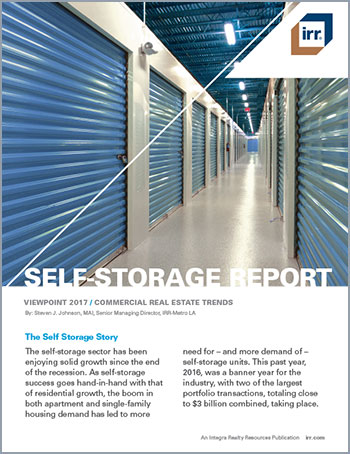 Written By: Steven J. Johnson, MAI, Senior Managing Director, IRR-Metro LA
IRR's 2017 Viewpoint National Self-Storage Report provides you commentary and metrics compiled by seasoned commercial real estate appraisers and consultants who have extensive knowledge of their markets.
BACKING SELF-STORAGE SUCCESS
The self-storage industry made up the ground lost from the Great Recession. Though the self-storage
sector is highly fragmented, studying the REITs that own this product type shows that the market is officially stable.
Decent Growth in '16
Rental rates did increase in 2016, according to metrics from Integra Realty Resources. Cap rates, in the meantime, fell, with some Class A facilities trading below a 5% cap. There is, however, a bifurcation in cap rates, depending on location, operations and upside potential by investors.
Continued Strength in '17
Performance will continue trending upward, though more slowly than in 2016. Still, the underlying fundamentals remain strong. Additionally, investors will keep a look-out for the value-add deals, those underperforming due to poor marketing or management.